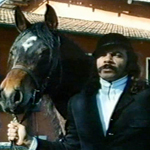 "I am retired. Can you dig where I'm coming from?"
How is it that I never watched the sequel to SUPER FLY, especially considering

it was called SUPER FLY T.N.T.? You'd think I'd've gotten on that shit right away. But I'm not the only one who forgot about it. This 1973 sequel has never been released on DVD. It has no external reviews on IMDb. And its soundtrack has never been on CD, even though it's good enough that I bought a vinyl copy on ebay right after I watched the movie.
I'm surprised it took me this long to get around to it, but admittedly I never thought it would be good. I figured why make a sequel to SUPER FLY, anyway? Didn't he quit the game at the end of the first one? Is this gonna be like MAGNUM FORCE, where they totally ignored that Clint had thrown his badge off a bridge at the end of DIRTY HARRY?
Actually, no. Not at all.