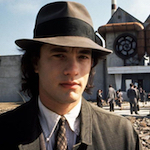 I have been sort of aware of JOE VERSUS THE VOLCANO since its release in 1990, but never decided to actually see it until now. I know it was poorly received at the time, and somewhat infamous for a time, and also that it was staunchly defended by Roger Ebert, and beloved by a select few – I most associate the movie with Bright Wall, Dark Room editor Chad Perman, who talks about it similar to how I talk about BLADE.
It's pretty different from what I pictured, especially in the beginning. This is an Amblin production that starts out feeling way more Terry Gilliam than Steven Spielberg. That's not enough to make me one of those people who swears by it, but it seems crazy to me that anybody hated it! 
It's the story of Joe Banks (Tom Hanks, precariously perched between TURNER & HOOCH and THE BONFIRE OF THE VANITIES in his filmography), a depressed hyopchondriac working miserably as a clerk at a Staten Island rectal probe factory that looks like a dystopian prison. Every day the employees do a slow sort of death march through the gates to the entrance (I liked that they were forced to walk further by an inexplicably zig-zagged path, though I can't say I grasp the significance of this shape being a reoccurring symbol throughout the movie).