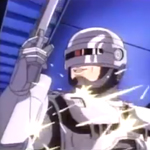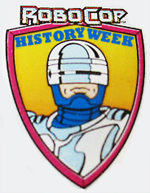 Look man, I don't want to take away from Black History Month, which is still ongoing, but circumstances have led to me deciding to declare RoboCop History Week. As a new remake of ROBOCOP approaches it is imperative that we remember all the previous RoboCops who have made their impact on RoboCop history throughout the years.
Of course the most important RoboCop is 1987's ROBOCOP by Mr. Paul Verhoeven. This is an all time classic. Significantly less important is ROBOCOP 2, a pretty bad movie but with some cool parts and ideas in it. In my opinion its greatest contribution is in demonstrating that maybe Irvin Kerchner is not 100% responsible for THE EMPIRE STRIKES BACK being a great sci-fi part 2. It is possible that he couldn't have done it without the strong hand of a certain writer/producer/creator who perhaps people don't want to give any credit to because of how he spurned them many years later when they were old and goateed.
On the other hand, ROBOCOP 3 is a piece of shit but it came from a director whose other works are pretty much flawless for what they are. So who knows. These things happen.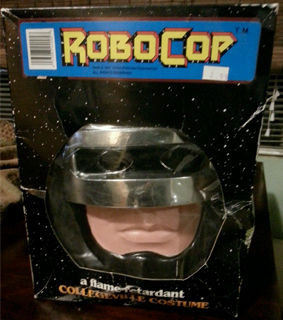 Also, I'll say this for ROBOCOP 2: I just noticed decades later that the villain, "Robocop 2," is reflected in RoboCop's helmet on the movie poster. It always seemed kinda bland just having a headshot of RoboCop. Now I get it.
I reviewed ROBOCOP, ROBOCOP 2 and ROBOCOP 3 here. (warning: contains remake-positive sentiments, might've given Hollywood ideas.)
So there you have three RoboCops of varying quality. But there are other, lesser known RoboCops that only existed on television (appropriate, since that's a medium that happens to be important within the movies themselves). This week I'm gonna take a look at the pilots for each of these RoboCop consumer products, two on DVD and two presented on the prestigious Youtube.com. Check out that websight if you haven't already, they have all kinds of crazy videos and shit.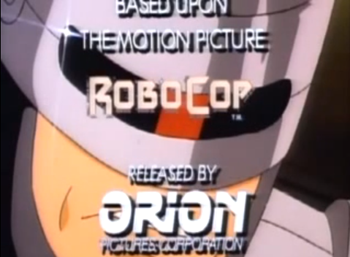 ROBOCOP: THE ANIMATED SERIES is what they retroactively call what was then officially just called ROBOCOP, or informally "the RoboCop cartoon." Its 12 episodes ran for a few months in late 1988, a little more than a year after the first movie was released and well before any sequels.
The term "animated series" makes it sound serious, like maybe they were making a real attempt to stay true to the themes and content of the movie. Oh jesus no, that is really, really not the case. I'm sure there might've been a few people on the team trying to get some real ROBOCOP shit through, but those motherfuckers were ice skating up a real steep hill. With barrels rolling down from the top and they gotta jump over 'em like Mario, and how do you land that safely when you're wearing those ice skates. The writers of the first episode, "Crime Wave," Rich Fogel and Mark Seidenberg, both came from The Smurfs and Muppet Babies. Directors Bill Hutton and Tony Love did a million different Scooby-Doos and Super Friends and Teenage Mutant Ninja Turtles and all that type of shit. Instead of using the famous theme by Basil Pouledouris they have new music by Haim Saban and Shuki Levy, the guys who imported Japanese shows to America and made them into the Power Rangers. All of these guys churned out mountains of garbage like this for decades and I bet none of them would consider this among their best work, if they even remember doing it, which they don't.
"What, ROBOCOP? Wasn't that a super-violent movie that had to be submitted to the MPAA 11 different times before they slipped by without an X-rating? Why would we make a shitty kiddy cartoon out of that?"
"Well, we already did it with RAMBO."
"I doubt it. I didn't do it, anyway. I'm the guy that worked on Scooby-Doo."
"Your name is on it."
"You're thinking of Scooby-Doo."
"It was you."
"I also did Laff-a-lympics."
The only way you're gonna find anything aimed at adults in this cartoon is if you take a screengrab out of context.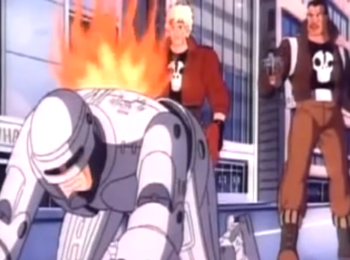 The cartoon recreates some of the familiar surface level content of the movie: it takes place in Detroit, where Alex J. Murphy (voiced by Robert Bockstael) has been killed, and yes, it looks like the perp was Clarence Boddicker: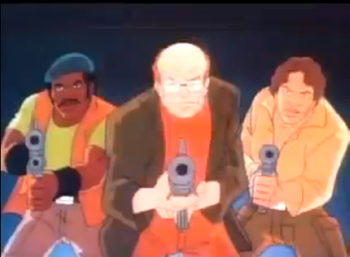 with his two accomplices, some guys from GI JOE or something. But Murphy was of course resurrected as "The ultimate super power – RoboCop," as the introduction calls him. He's still partnered with Anne Lewis: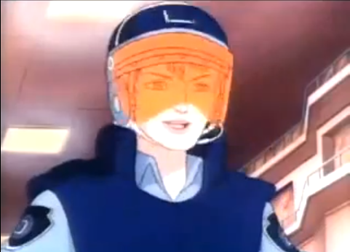 I think it's supposed to the same sergeant as in the movie too. OCP still runs the police department and most other things in the city. RoboCop still has his "Prime Directives," and we still get some of his POV shots. RoboCop still has a little chair that he sits in for repairs, and his helmet still comes off so he can plug in.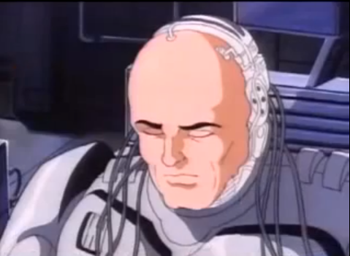 He has the gun that comes out of his leg and he still likes to spin it.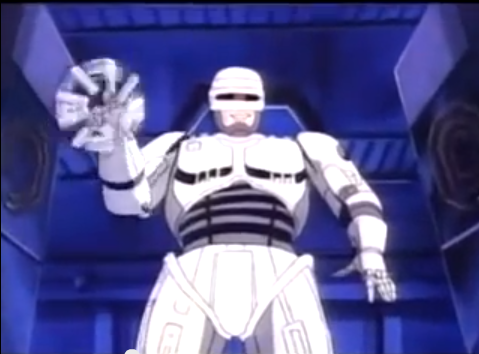 ED-209 is back too. But he's ED-260 now. I'm not clear how he's upgraded, but he's doing traffic control now. That's one way the writers find to adapt the satirical elements of the movie. Since he can't shoot ten thousand bullets into a motherfucker in a board room he has to just blow up a car for changing lanes without signalling. He goes on a mini-rampage blowing up illegally parked cars and making guys in letterman jackets run away screaming.
I'd have to say that the best idea in the script is in the opening, where a gang of criminals are robbing an OCP blood bank, because they can sell plasma on the black market. I can picture how it sounded like an amusingly nightmarish idea when they wrote it down, but unfortunately the animation gets back from Korea and you have these ridiculous punk characters passing jars of blood like a bucket brigade. Which I guess must be easier than animating them walking.
Basically, this show is about these stupid punk characters going around lightly wrecking things and RoboCop shows up to detect things with his visor and then shoot lasers at them. There's a guy at OCP named Dr. McNamara. You know he's a bad guy because he has robotic fists but is not RoboCop. He's the guy pushing the ED-260 program, and he gets embarrassed by RoboCop when it doesn't work. So he goes to a video arcade and hires a gang called The Vandals (who all wearing matching shirts that look similar to The Punisher, which is interesting because this cartoon was produced by Marvel and has a Spider-man logo at the end) to go on the titelastical crime wave, or "widespread crime spree" he calls it. Because RoboCop will never be able to keep up with a crime wave and he will look like a real chump! Although on second thought he was created in order to stop crime waves wasn't he? I don't know.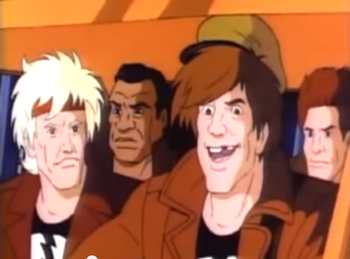 Anyway these Vandals are real troublemakers. Even before they got hired they took a blowtorch and a chainsaw to some arcade games that they couldn't beat. In fact, better than a chainsaw – we later see it in Robovision and it's a "power saw." McNamara gives them new parts for their dune buggy things they drive and they become "the fastest gang in Detroit." They drive around inside a mall, steal jewelry, shock a non-robo-cop with electricity, burn a window display of crappy generic toys and set loose a bunch of bowling balls from a sporting goods store called SPORT. To be honest I am impressed that one small sporting goods store in a mall would have that many bowling balls in stock. Detroit must be a bowling town.
Maybe the weirdest thing is that they have a cyborg dog that chases after some of the cops. I had to wonder if they originally designed that dog to be RoboCop's RoboPooch. Isn't that the cartoon way, to give the hero a dog version of himself? I know they did it with other iconic heroes such as Superman, Batman, Mr. T and Frasier.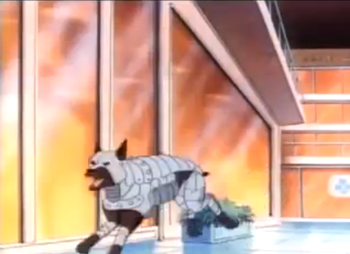 The action and dialogue are not what you would call "adequate." Robo shoots at things and makes them fall down on top of people and stuff like that. In one part Lewis does a flying kung fu kick knocking a Vandal into a hot dog stand. Then she quips, "Hey, hot dog. All you need now is a little mustard." If that counts as a quip. To be clear, she does not follow that statement by dumping mustard on his head or anything like that. It is just a clever little condiment related gag she makes, because of there was hot dogs there I believe was where that came from.
The big dramatic thing that happens (in this and many other substandard RoboCop stories) is that he has a "SYSTEM DISFUNCTION" [sic] according to his visor. He has to go back and have his arm put back on and be repaired. The police have a doctor lady who says he's not ready to go back into action, but he does anyway. Stupid lady. Let RoboCop do what he's gotta do. You're outta line lady.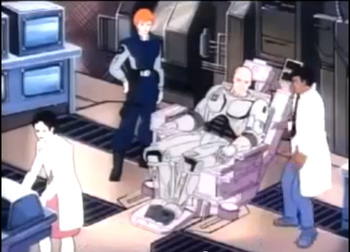 Of course, while he's fighting against a powerful bulldozer vehicle that all the Vandals can sit in in one row ("No one can stop the Killdozer, not even RoboCop!") his systems start to fail again. Oh no, what if that uptight doctor was right? They say they're going to "finish him" while he lays on the ground helplessly, but then his power bar goes back up to full and he picks up guys and tosses them and shit. Phew!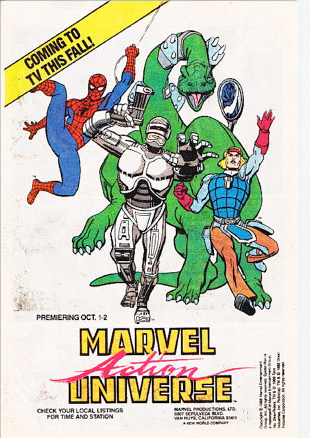 Even though this is a future where corporate assholes have robot hands and criminals have robot dogs, RoboCop still stands out as some kind of a freak that everybody feels comfortable throwing slurs at. Between Dr. McNamara, the widespread crime spreers and Robo's racist colleagues he gets called "Tin man," "That… that thing," "bucket brain," "tin can," "that monstrosity," "ol' tinsel top," "junk man," "RoboFlop" and "just a pile of nuts and bolts" within the 20 or so minutes of this one episode. Luckily he does get some encouragment from the sergeant, because he calls him "our best player," as in "we can't afford to have our best player on the bench!" The sarge speaks mostly in sports metaphors, including "you took the ball and you ran with it."
He also is an angry sergeant who's sick of the red tape and what not. "There's no time for signing papers! The clock is running out!"
In my opinion this is not a quickie tie-in children's cartoon that seems to understand the spirit or basic meanings of Mr. Verhoeven's hard-R subversive satire. For example, they follow the movie's lead in having "Media Breaks," but there are no jokes or exaggerations included. It's just standard news used for exposition.
Worse, they seem a little too pro-OCP for my tastes. As far as the children can tell, Omni Consumer Products is a fine company but this evil robot-handed motherfucker is sneaking around working with blowtorch welding dune buggy punks to ruin everything. But luckily RoboCop comes and shoots lasers at everybody. In fact, the doctor seems like a bigger villain than the other people on the OCP board. You're supposed to be mad at her for doing her job and trying to repair RoboCop before sending him back out on the streets to risk life and limb shooting more inanimate objects with lasers.
But in a way this apparent cluelessness does work in the cartoon's favor, because it seems pretty sincere about the things Verhoeven was sarcastic about. It's like a shitty piece of propaganda that the children of futuristic Detroit might be indoctrinated with.
The other positive thing I can say is that I like the way they draw RoboCop. Whoever got to draw him must've been happy he didn't have to draw all the other stupid shit in this cartoon. So he worked real hard on making Robo look pretty cool. Good job on drawing RoboCop, Korea.
Here is the episode for research purposes:
This entry was posted on Monday, February 10th, 2014 at 12:48 am and is filed under
Cartoons and Shit
,
Reviews
. You can follow any responses to this entry through the
RSS 2.0
feed. You can skip to the end and leave a response. Pinging is currently not allowed.