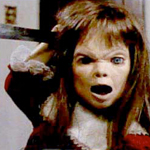 "Listen to me, I am not losing my daughter to a god damn 900 year old goat head!"
I always wanted to see this movie because I thought it was funny that they thought it was worth making a rip-off of CHILD'S PLAY but the killer doll is a girl. As if the very femaleness of the killer doll would change everything, because of the daily challenges a woman faces that are different from a man, or whatever.
Well, I really didn't need to see this. I don't necessarily feel like I've gained anything.

It's not really that much like CHILD'S PLAY. That means it's not a blatant rehash, but it also means it doesn't have any of the same appeal. CHILD'S PLAY dealt with a fad doll like a Cabbage Patch Kid, and also with modern talking dolls that have creepy qualities that are supposed to mimic life. DOLLY DEAREST is supposed to be a doll lovingly hand-crafted in rural Mexico, so it's more weird that the kid is okay with it moving and talking, and it misses the evil-in-ordinary-mass-produced-objects angle.
CHILD'S PLAY was urban, it was horror in an ordinary home. DOLLY DEAREST is out on an estate in Mexico. They're not an ordinary family – they have a maid. Even in a movie that takes place in Mexico, poor Lupe Ontiveros has to play the maid for white people.
Chucky of course was a serial killer transplanted into a doll through voodoo. Dolly is inhabited by some kind of demon worshipped by a pre-Mayan civilization. Chucky has some black humor about being a human in this small, plastic body, Dolly just doesn't make sense when she knows human things. But she doesn't talk even as much as Chucky in part 1. And actually you don't see her moving very much either. CHILD'S PLAY showed restraint but they did have some serious animatronics for a few scenes, DOLLY DEAREST doesn't have that luxury.
On the other hand, I think the same guy (Ed Gale, HOWARD THE DUCK) plays Chucky and Dolly. His websight sells autographed photos of "Ed as Dolly," although the movie's not listed on his resume or on his IMDb page.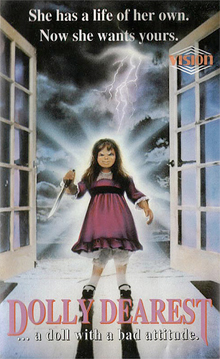 The plot involves an American family moving to Mexico after purchasing what they think is a doll factory, but is actually kind of a medium-sized shed with a couple machines and a shelf of old dolls. Meanwhile there's an archaeological dig going on maybe 50 yards away, overseen by Rip Torn (yes, playing Mexican). And they accidentally dug up some artifact that unleashed animated green light that represents the soul of the demon thing that possesses the doll. (Later they find a very small coffin, which I guess is to imply that it's okay, he's comfortable being in a doll-sized body.)
The daughter (Candace Hutson) finds a bunch of dolls in the shed, she picks one out and names it Dolly, it is possessed by the demon thing. The doll becomes her only friend but this seems to be going on off screen. When she's on screen the girl exhibits cult-like behavior and says that mom (Denise Crosby) can't come into her playhouse because Dolly doesn't want her there.
I thought it was an ugly doll, but Rip Torn is impressed when he sees a bunch of them on a shelf. He says, "These creatures are beautiful.  Very haunting."
The son (Chris Demetral) at first seems like he's supposed to be an Alex P. Keaton type of character. We see him on a plane wearing a tie, headphones and reading a book called "When Bad Things Happen to Good Kids." Later it turns out he's precocious because he's really into archaeology, and he pushes his way into being Rip Torn's assistant. Then at the end he shoots the doll with a shotgun and says "Play with this, bitch!" I guess it wasn't supposed to matter that it wasn't in character, it was supposed to be real cool for somebody to say kind of a one-liner thing in a horror movie. I guess.
The writer/director, Maria Lease, was an actress in exploitation movies in the '60s and early '70s, playing characters like "Raped Woman" in THE KISS OFF, "Murdered Girl" in MNASIDIKA, "Girl in Shower" in MONIQUE, MY LOVE, "Girl With Purse" in HORROR OF THE BLOOD MONSTERS, "Slave Girl" in STREET OF A THOUSAND PLEASURES, and "Joan" in DRACULA VS. FRANKENSTEIN. In the '70s she moved up to script supervising, which she's done for TV and movies as recently as 2010. This is her only movie as a director (she also did 4 episodes of Silk Stalkings, and wrote a German TV movie
I don't know. Anyway, it's a killer doll is what it is in this one.