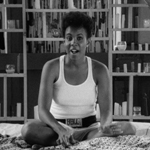 "A nice lady doesn't go humping from bed to bed."
I think the last time I saw SHE'S GOTTA HAVE IT might've been in a theater in 1989. I remember when DO THE RIGHT THING came out one of the theaters here did a double feature of this and SCHOOL DAZE. So I was just learning who Spike Lee was and what he was all about.
All this time later it's kinda crazy to go back to his DIY jointational debut. It's the work of a young man trying to prove himself, show his style and stretch his budget while also saying something about relationships between men and women. As much as you can anyway when you're 28 years old.
It's in black and white. He plays one of the main characters. His sister Joie is in it (which is her doing him a favor, because she gives the most natural performance in the movie). His dad Bill did the score. It's not about race, and I don't think there are even any white people in it. And though you could say it started the black film movement that ended up being mostly about gangs and crime (BOYZ N THE HOOD, MENACE II SOCIETY, STRAIGHT OUT OF BROOKLYN) it has no guns or fights in it. (The end credits also boast that there were no drugs or jheri curls in the movie.) (read the rest of this shit…)