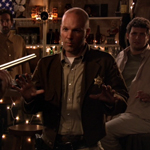 Yesterday it was officially announced that director Michelle MacLaren will be directing a Wonder Woman movie. She'd been Blogger's Choice since it got around that Warner Brothers was hoping to get a woman for the job.
It's a good idea to get some female perspective in some of these super hero pictures, and an interesting challenge. There unfortunately isn't a very big pool of established female directors to choose from, and zero who've been allowed experience in big budget effects or super hero movies. One who came close was Patty Jenkins (MONSTER), who was supposed to do THOR 2, but was fired before filming allegedly for "a lack of overall clarity in her choices." Women who've done medium-sized or small studio genre movies include Karyn Kusama, who did ÆON FLUX; Catherine Hardwicke, who did the first TWILIGHT (then got dumped); Kimberly Peirce, who did the CARRIE remake; and Lexi Alexander, who did the b-movie THE PUNISHER'S WAR ZONE.
To date the biggest budget live action movie directed by a woman is Kathryn Bigelow's K19 THE WIDOWMAKER. She also happens to be a great action director, but after THE HURT LOCKER and ZERO DARK THIRTY it's hard to picture her going super hero. I assume they offered to greenlight six serious contemporary issue dramas if she'd do this, but if so she must not've been interested.
So they're digging into the TV directors. MacLaren got the internet's eye by directing episodes of Breaking Bad, Game of Thrones and The Walking Dead. Obviously they've talked to her about what she wants to do, so they have more to go on than the we do. Personally I'm skeptical of counting on the cinematic vision of TV directors. From what I understand TV is usually a totally different gig than movies. They come in and try to follow an established approach, directing a cast and crew already working together as a team who know how it's supposed to go. It's the producers and show runners who have the vision. That's why it's rare to see one episode of a TV show that stands out filmatistically.
Of course, there have been some great transitions from TV to movies, including two of the best of the modern super hero movies, THE AVENGERS and CAPTAIN AMERICA'S WINTER SOLDIER. But Joss Whedon started as a movie screenwriter, then as TV show creator and writer who branched out into directing, and the Russos started as feature writer/directors before they found more success in TV. J.J. Abrams is a similar story to Whedon. These are all people who started as storytellers, not directors for hire, so we already knew they had a vision.
Hopefully MacLaren will get added to the list of success stories, but I don't think there's any way for us to guess based on her TV work. However, despite what I've seen reported elsewhere, WONDER WOMAN will not be her feature directing debut. We actually have one movie to judge her on, a 2006 DTV thriller called POPULATION 436. And you know me and DTV. I'm on the case.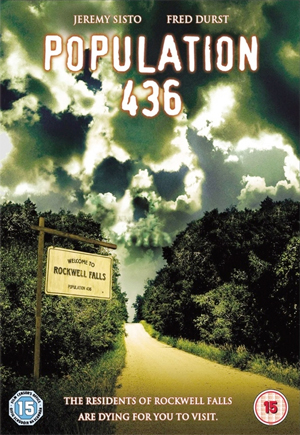 Jeremy Sisto plays Steve Kady, a census taker visiting the small town of Rockwell Falls for counting purposes. You know, the ol' census-taker hero archetype. The people of the town treat him as an honored guest and are impressed when he pretentiously quotes Pythagoras. Somehow he doesn't notice that this is weird. But he does figure out that some weird shit is going on because the population has stuck at exactly 436 for decades. (At least it's not 666 I guess. That would make for an even stupider cover.)
It's alot like THE WICKER MAN, either version. Actually, closer to the remake, but minus the thrilling injection of mega-acting and bear suit freakiness. You got old timey town festivals, off-putting seemingly brainwashed residents and semi-secret occultish ritual. A council entirely made up of friendly grey-haired men discuss town business and then recite an inspirational chant. There's something going on with a hospital and a little girl undergoing shock treatments. Kady hears her screaming for his help and tries to rescue her but then she gets cold feet and disavows him.
It turns out everybody's concerend about "The Fever," a highly contagious disease with the main symptom being that you want to get the fuck out of this podunk town. So as you can imagine it's real easy to catch. The cure turns people into good ol' unquestioning small town folk. Kind of a STEPFORD WIVES type deal except it comes from their experience that anyone who leaves town is immediately struck down by God. So I guess getting brainwashed to stay in town and not die is actually for their own good. It's like somebody's pills that dampen their energy and personality but keep them from killing themselves. A necessary evil.
While in town Kady makes friends with a sheriff's deputy played by – would you believe this? – Fred Durst. You know, the director of THE LONGSHOTS. I've always disliked his music with Limp Bizkit and his stupid face, but he's not bad in this. In fact he works really well for a guy that we don't know if he's sinister or just a doofus. He also looks a little less douchey with no soul patch, no backwards baseball cap, skinny face, balding. He's actually the most likable character. I liked him.
I can't really say the same for the protagonist. Sisto is generally pretty good, but his character takes a drastic turn for the dickish when he starts making moves on the deputy's fiancee. This guy has taken him to the bar to introduce everybody, stopped a local from shooting him in the face, taught him how to shoot guns and hung out and talked relationships with him, and how does Kady repay him? By trying to take his woman behind his back, not even talking to him about it. I'm not talking about some bro code, I'm talking about common decency. That is obviously not cool. Guys like this, they think they're the fuckin king of the world, just because they're good at counting.
These types of small towns in movies always ring false to me. Of course there really are communities where everyone knows each other, where they pride themselves on being old fashioned, where they don't see hardly any crime. And it's true that they may be protective of their way of life and suspicious of outsiders and big cities. But also every one of the motherfuckers has a satellite dish on the outside of their house or trailer. They are connected to the outside world. They're not Amish. They're not historical re-enacters. They probly don't offer a bed and home made peach pie to everybody that drives through and invite him to their annual festival. But every small town in movies does all that shit. This is the same exact scary small town you've seen in every other movie about this same thing.
It's a decidedly mediocre movie. If we're hoping MacLaren is the one to find a really good way to tell the story of Wonder Woman this is not very persuasive supporting evidence, though it doesn't damn her either. The filmatism is fine, completely competent DTV work. Fast editing is used effectively, not confusingly, and avid farts are limited to dream sequences. There is very little that could be considered action, and nothing that hints at how she might handle bullet-deflecting bracelets or invisible jets. And no lassos.
But if Fred Durst gets cast as Wonder Man or whatever don't fret, she does know what she's doing in that department.