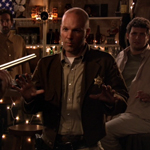 Yesterday it was officially announced that director Michelle MacLaren will be directing a Wonder Woman movie. She'd been Blogger's Choice since it got around that Warner Brothers was hoping to get a woman for the job.
It's a good idea to get some female perspective in some of these super hero pictures, and an interesting challenge. There unfortunately isn't a very big pool of established female directors to choose from, and zero who've been allowed experience in big budget effects or super hero movies. One who came close was Patty Jenkins (MONSTER), who was supposed to do THOR 2, but was fired before filming allegedly for "a lack of overall clarity in her choices." Women who've done medium-sized or small studio genre movies include Karyn Kusama, who did ÆON FLUX; Catherine Hardwicke, who did the first TWILIGHT (then got dumped); Kimberly Peirce, who did the CARRIE remake; and Lexi Alexander, who did the b-movie THE PUNISHER'S WAR ZONE.
To date the biggest budget live action movie directed by a woman is Kathryn Bigelow's K19 THE WIDOWMAKER. She also happens to be a great action director, but after THE HURT LOCKER and ZERO DARK THIRTY it's hard to picture her going super hero. I assume they offered to greenlight six serious contemporary issue dramas if she'd do this, but if so she must not've been interested.
So they're digging into the TV directors. MacLaren got the internet's eye by directing episodes of Breaking Bad, Game of Thrones and The Walking Dead. Obviously they've talked to her about what she wants to do, so they have more to go on than the we do. Personally I'm skeptical of counting on the cinematic vision of TV directors. From what I understand TV is usually a totally different gig than movies. They come in and try to follow an established approach, directing a cast and crew already working together as a team who know how it's supposed to go. It's the producers and show runners who have the vision. That's why it's rare to see one episode of a TV show that stands out filmatistically. (read the rest of this shit…)