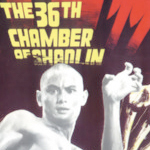 Well, I've never been asked to be on a film festival jury (and I've been twice-rejected from being on a real jury) but I'm honored that Time Out New York asked me to be one of the voters for their 100 Best Action Movies list in the "Film critics and experts" section. I believe I am an expert.
As with all lists like this there's no way to read it without noticing what you think should be on there that's not. Personally I can't help but note that there's not a single Steven Seagal*, Jean-Claude Van Damme or Dolph Lundgren film on there. Is there any Charles Bronson? There's a couple Clints. I'm okay with no Chuck Norris. Stallone and Schwarzenegger get their due, and most of us can get behind the obvious choice for #1. It's got some westerns, some samurai, lots of martial arts. But the b-action gets the shaft. (And blaxploitation, come to think of it.)
*except for MACHETE
But then again I know how the voting was done. We all voted for 10, based on our own definition or criteria of action. So some people are always gonna vote for various things outside of the bounds of straight-ahead action. And it's hard to narrow down to the 10 best. If I was doing the 20 best or the 30 best you bet your ass I would've gotten into Brian Bosworth territory. But trying to honor the full breadth of action cinema history in ten movies, even I neglected Van Damme and Dolph. I blew it, you guys. I'm part of the problem.
On the other hand, I can get behind the vast majority of the movies on the list, and I'm pleased at all the love for Hong Kong. There's my favorite Shaw Brothers movies, there's a whole bunch of Jackie Chan, a couple Jet Li, a couple Donnie Yen, there's five John Woo movies (BULLET IN THE HEAD, A BETTER TOMORROW, THE KILLER, FACE/OFF and HARD BOILED). And EASTERN CONDORS came in at #56! I didn't vote for it but I'm glad somebody else did.
Here was my list:
1. DIE HARD
2. HARD BOILED
3. THE 36TH CHAMBER OF SHAOLIN
4. THE WAY OF THE DRAGON
5. TERMINATOR 2: JUDGMENT DAY
6. MAD MAX 2: THE ROAD WARRIOR
7. KILL BILL
8. OUT FOR JUSTICE
9. THE PROTECTOR/TOM YUM GOONG
10. FIRST BLOOD
On another day I would've voted differently, but here was my rationale. #1 and #2 go without saying. The rest I tried to choose based on equal love for the story and characters and for the actual action. I didn't want something that is a great movie that if you think about it has action in it (the Lucas and Spielbergs for example). I wanted it to be a great movie that also I sometimes watch just for the action scenes. For example I love KILL BILL on so many different levels but also I can just watch the fight with Elle Driver in the trailer over and over again and it always moves me. I got movies with incredible physicality and choreography, also chases and stuntwork, and a couple that are just quintessential badass attitude. A decent variety of the type of stuff I love.
7 out of my 10 made the cut for the actual list. The ones that didn't were WAY OF THE DRAGON (ENTER THE DRAGON did, of course), OUT FOR JUSTICE and THE PROTECTOR (ONG BAK did make it). Glancing at the lists I'm pretty sure I'm the only one who voted for THE PROTECTOR or for anything starring Steven Seagal. Oh well. That's how these things go.
To me the funnest part is looking at what the people in the "Actors, directors and stunt performers" category voted for.
Danny Trejo put MACHETE at #1, that's gotta be part of how it gone onto the list. Some of the other guys probly saw that and thought "Ah shit, I didn't know I could vote for my own movie!" I believe he's also in HEAT which is #3 on his list, but that seems fair. Zoe Bell voted for her own movie RAZE (and KILL BILL, where she was the lead stunt double) but at least she put them at the bottom of her list.
I like that Iko Uwais, star of THE RAID, has the Mark Dacascos-teaching-capoeira-to-troubled-teens movie ONLY THE STRONG on his list. I love that movie too but that's a deep cut.
John McTiernan is a funny one too because here's the director of the #1 movie on the list (by quite a margin I'm guessing based on how many lists it's on) and most of the stuff on his list nobody would consider to even be action movies. For example he has FARGO on his list. And THE GRAPES OF WRATH.
One weird thing to make it onto the list is WAR, a poorly reviewed Jet Li-Jason Statham movie from 2007. Not a terrible movie, but when you look at all the things I mentioned above that didn't make the cut its inclusion is a real head-scratcher.
Or that's what I thought anyway. Then I saw that Yayan Ruhian had it at #3 on his list. Shit, if Mad Dog from THE RAID wants it on there it's going on there. I'll allow it.
This entry was posted on Thursday, November 6th, 2014 at 12:13 am and is filed under
Blog Post (short for weblog)
. You can follow any responses to this entry through the
RSS 2.0
feed. You can skip to the end and leave a response. Pinging is currently not allowed.