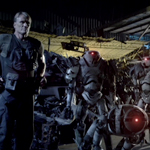 In BATTLE OF THE DAMNED, Dolph Lundgren fights zombies, and I'll give it this: it's way better than AGAINST THE DARK, the one where Steven Seagal fights vampires. There are two main reasons for this:
1) AGAINST THE DARK is Seagal's worst movie ever
2) BATTLE OF THE DAMNED also has robots
It's almost the same story: group of mercenaries led by beloved action icon of the '80s and '90s (in this case Dolph) patrols through a quarantine zone where a plague turns everybody into violent monsters (in this case running zombies instead of vampires) while a group of bland survivors walks slowly and talks about boring shit in a large building. They kill a bunch of the monsters, splattering that CGI blood that dissolves in the air, and there is some running around and stuff. Seagal used a sword, Dolph doesn't, but he does meet a guy named Elvis (Jen Kuo Sung of NO RETREAT, NO SURRENDER 3 and BLOODMOON) who does. And he knows the military plan to bomb the whole area to stop the virus so he bands together with the survivors he meets and they try to get out of there before it's too late. The end.
Although this is pretty shoddy it is not as poorly made as AGAINST THE DARK. It mostly takes place in the day time and often outside, so there is sometimes colors. (Not enough, though. They always drain that shit out of DTV movies.) Lundgren is actually the lead character and seemed to be on set most of the time, in contrast to Seagal's small amount of footage spread out to seem like he is the star. Some scenes have a sense of momentum to them, for example there's an opening cutting between zombie fights and Dolph standing in a mansion talking to a rich guy hiring him to go in and get his daughter out.
Shit, that's right, he even has a simple, specific mission! That was a good idea.
I also approve of the overall tongue-not-necessarily-in-cheek tone of the movie. It does have some jokey lines (a few of them groaners – like when a character insists on touching the robot when he first sees it and says "Whoah, serious nerdgasm!") but treats the story itself seriously, despite its Asylum-esque cheapness. It's not more of that "it's okay that it sucks because wink wink you know what I mean, grindhouse" type bullshit we keep getting.
Actually what it kind of reminds me of is an old Full Moon movie, in both its charms and its shittiness. I guess Dolph is the Tim Thomerson then. He's the grimacing, toothpick chewing Major Max Gatling. Mogadishu '93, Delta Force. The type of guy who keeps saying "Gatling, you stupid son of a bitch!" to himself when he seemingly gets in over his head. But obviously this is a Dolph character we're talking about, nothing is over his head.
There is a nice moment which could either be considered badass juxtaposition or an Eastwoodian aging action hero touch, where he lays out a map to plan a raid and puts on reading glasses. (Also he gets called "old man" at one point.)
Gatling's rescue squad doesn't last as long as he does, because "This whole fuckin thing is fucked!" Those who survive run for the hills (well, fly away in a "bird"), but he stays to get the "treasure chest."
Turns out the daughter, Jude (Melanie Zanetti) is surviving in a mansion with Duke (David Field, CHOPPER), Elvis, Lynn (Lydia Look from the Gary Daniels movie DEADLY TARGET), Anna (Oda Maria) and Jude's boyfriend Reese (Matt Doran, who played "Elan Sleazebaggano," the guy who tried to sell "death sticks" to Obi Wan in ATTACK OF THE CLONES. I did not know that was the character's name until now, so give me a minute to recover please). (…) Duke introduces the group as "the damned," so I guess this is their battle.
It seems like we're gonna get to know some of these characters, but not really. Elvis and Lynn do sweaty shirtless sword practice, Anna is Duke's girlfriend, Duke is suspicious of Max, Reese is jealous of Max, Jude is taking a pregnancy test. That's about it, and yet this getting-to-know-the-characters section seems too long.
Earlier one of Max's troops got infected and started puking, and they do that whole thing where the guy doesn't want to admit he's infected but his friend looks at him real serious and knows he has to kill him. You know, in case you haven't had enough of that one in ten thousand other movies and TV shows about zombies, vampires or werewolves. But it's good set up for later when Jude pukes, looks at her boyfriend and says, "It's not that."
She's just pregnant. Luckily he believes her, or that could've been a tragic misunderstanding.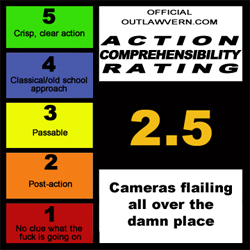 Well, Duke ends up chaining Max to a light pole and leaving him there, and of course Max's now zombified friend stops by for a visit ("Buddy, you don't look so good," he tells him) and then a bunch of other zombies, and he has to spin around the pole and kick them and choke them with the chain and what not. A cool situation at least, though they don't do much with it.
I can't say I like the style of action scenes. There's a whole lot of COPS style wobbling camera chasing behind somebody running. In general the zombie fighting has more kicks than you usually see (with bladed boots cutting their throats) but is not different enough to not seem shitty next to the much better effects and more varied action that you get every week on The Walking Dead.
You gotta wonder about why they keep making these Z-grade zombie movies, assuming they are actually trying to do a good job. The people that make them – do they just not see enough movies to be as sick of zombies as everybody else, or do they delude themselves into thinking they're the ones who can do it right? I really don't know the answer.
Luckily, robots show up. "What the hell?" Gatling asks when he spots them.
"Robots? Where did they come from?" asks Reese. The answer, it turns out, is 2011's  ROBOTROPOLIS, from the same writer/director, Christopher Hatton. I don't know why Reese even asks, because he's the one who then expositions that these are the prototype robots that went berserk in a Tokyo factory, and they're still on the loose. These are all characters and incidents in one unified Robotropolisiverse, I guess.
This is where the Full Moon vibe comes in. It's definitely no ROBOT JOX, but maybe it compares with one of those lesser Full Moon robot pictures, like ROBOT WARS? I don't really remember them well enough to say for sure. Anyway, these don't look like busybot Transformers, they're more simple and retro looking. They're charmingly lo-fi digital animation that almost looks like herky-jerky stop motion. And of course they manage to avoid having them on screen very much, especially in the same shot with any human, unless they are just a model that's close up and not moving.
There are several robots with different heads, and one that crawls. At first I thought he was supposed to be a crazy robot, but I guess he's supposed to be like a dog. They don't really manage to establish different personalities for them, but I guess you can't expect them to flesh them out more than the humans.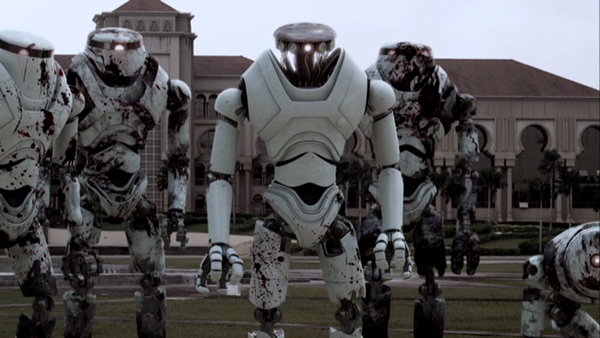 After initially battling what they think are "killer robots" our guys learn that the robots have repaired themselves, gone un-rogue, and are there to help. They even offer medical assistance (never taken advantage of). But the last 20 minutes of the movie are kinda fun as (as much as the cheap FX will allow) Gatling leads the robots and humans into battle against the zombies.
It's pretty great to see the robots take out some zombies: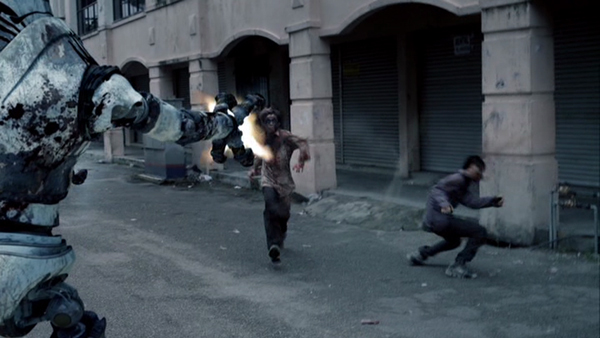 and then to see how the humans react: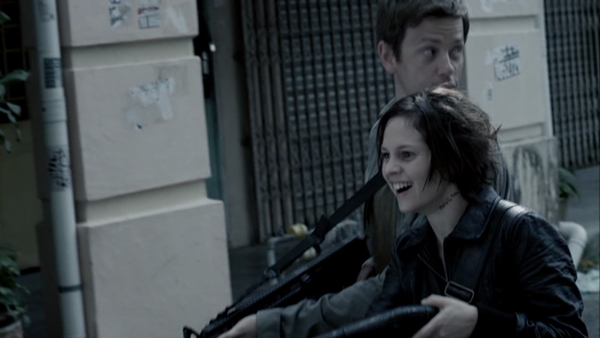 I'm sure the mall-dwellers of DAWN OF THE DEAD or anybody on The Walking Dead would be equally delighted to have a robot friend to shoot zombies for them. It would make the post-apocalypse so much more convenient.
You gotta love a shot rotating around Dolph and a robot back-to-back as they both fire machine guns at zombies. Hatton must've known it was cooler than anything else in the movie because he does two rotations. I'm sure in a few years if somebody reminds me that this movie exists I will forget all the boredom and fondly remember the few minutes of stuff like this: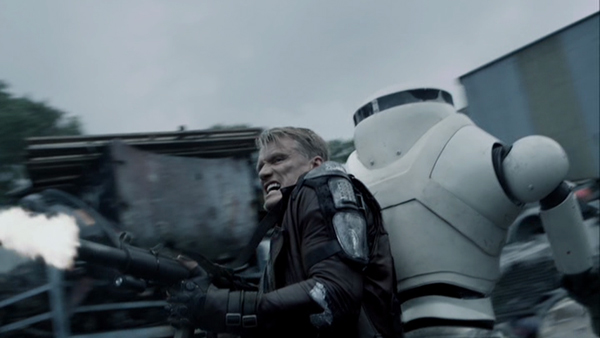 The best touch in my opinion is the one point where they subject a robot to a zombie attack. Just like a human he runs out of ammo, gets swarmed and succumbs to the mob. Poor guy. He goes out like a man, too. Doesn't scream or cry. Or move, really.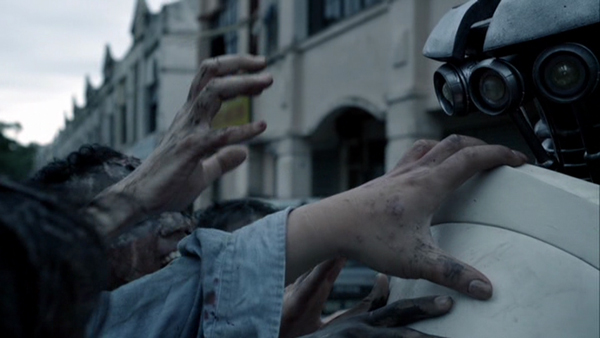 Later, after a nice robot repair montage, that same robot that got killed by the zombies shows up at the hideout and attacks Gatling because he's "malfunctioning" – just like if he got bit by a zombie! He has a bunch of blood on him too but otherwise does not look zombified.
A minor complaint: they should've animated him to stumble like a zombie. Also, would it have been so hard to have zombies pulling wires out of him and eating them like guts? I don't think that would require expensive computers.
There are other kinda funny moments (Duke melodramatically screaming "BETRAYALLLLL!!!" when he gets left behind) and kinda cool parts (Elvis's failed sword standoff shown in shadow). Not enough to make it an actual good movie, but enough to make it better than most of the shit on the SyFy Channel where it will surely end up soon.
p.s. I noticed there is a 3D release in some countries. Probly one of these quickie conversions I've heard they have in Europe. But somebody might want to edit the best parts of BATTLE OF THE DAMNED 3D and BATTLE OF THE YEAR 3D to make BATTLE OF THE DAMNED YEAR 3D.
This entry was posted on Tuesday, February 18th, 2014 at 1:23 pm and is filed under
Action
,
Reviews
,
Science Fiction and Space Shit
. You can follow any responses to this entry through the
RSS 2.0
feed. You can skip to the end and leave a response. Pinging is currently not allowed.