Note: I sent this in to Ain't It Cool last night but they didn't post it, so what the hell, outlawvern.com exclusive. I'd kind of feel bad posting it there anyway because it's not a very positive review and I don't want to bum everybody out. But a man's gotta do what a man's gotta do I guess.
In COMMAND PERFORMANCE, director/co-writer Mr. Dolph Lundgren also steps out from behind the camera to star as the hero Joe. He's just a regular guy, your usual American biker who hates guns and lives in Moscow and plays drums for a band called CMF who are opening for an American pop singer performing for the Russian president and his daughters when they're taken hostage by vengeful terrorists and has to save the day. In other words, DIE HARD in a rock concert, with Dolph Lundgren on drums.
I know there are a contingent of you out there who are as excited for this one as I was. It's the most anticipated DTV movie of the year besides the Scott Adkins/Isaac Florentine joint NINJA. So it kills me to say this but I don't think COMMAND PERFORMANCE is one of Dolph's better efforts.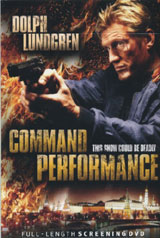 It's not a total bust. Some nice touches come out of the absurdity of Dolph playing "a rocker" as he calls himself. It is funny to see Dolph with tribal tattoos on his arms and rockin out on the drums. He does kill a guy with an electric guitar. And he keeps mentioning recording contracts and royalty rates and shit in the midst of the action. When he finds the president he asks, "You okay, dude?"
But otherwise I'm afraid the execution of the concept is pretty weak. Dolph has shown himself to be a decent director before, so maybe he just doesn't have the required understanding of the DIE HARD formula. I think COMMAND PERFORMANCE fails in two of the most crucial aspects of the formula:
1. THE VILLAIN. This villain is a Russian soldier angry at the president for the death of his father long ago. He's menacing enough but he's not fun to hate and has no humor or crazy over-the-topness. He doesn't delight in being evil, so he's not as enjoyable to watch as Alan Rickman in DIE HARD, Jeremy Irons in DIE HARD 3, Tommy Lee Jones and Gary Busey in UNDER SIEGE, Eric Bogosian and Everett McGill in UNDER SIEGE 2, Powers Boothe in SUDDEN DEATH, Dennis Hopper in SPEED, etc. If you're gonna use this plot structure you gotta realize your movie is gonna be held up against all the other similar ones and you better make sure it can withstand the comparison.
B. THE GEOGRAPHY. In DIE HARD the building setting is crucial, and you know where he is in the building and where the hostages are. Location is important to a DIE HARD ripoff – hence "DIE HARD on a boat," "DIE HARD on a boat on a train," etc. Unfortunately, Dolph doesn't take much advantage of the concert hall setting or manage to establish its layout. Like much of DTV (Seagal's terrible AGAINST THE DARK comes to mind) it just seems like the good guys are in some gloomy room somewhere slowly walking to other similar rooms, who knows where, could be anywhere in the building. When they do encounter terrorists the action is usually too chaotic and darkly lit to easily tell what's going on.
And since he's a biker, not some special forces guy or something, Dolph doesn't do any karate. Not even biker karate. Not even drummer karate. He just punches people, shoots and stabs in the head. There are a couple good moves. I did like when he stabbed a guy's chin and you could see the blade through the mouth. Good one Joe. And the idea of "he used to be in a biker gang" explaining why he can take on a highly prepared paramilitary force makes me laugh (in a good way). He teams up with a surviving member of the president's security team who seems embarrassed to repeat that explanation when he's communicating with people on the outside. "Well, um, he used to be in–"
I'm glad it's not some spoof or something, but this movie could've benefited from embracing the absurdity of the concept more. I know it's a fine line to walk, and it's gotta be hard to put yourself out there in this world so full of condescending ironic dickheads on the internet and the E! network and shit who dedicate their lives to saying sarcastic bullshit about supposedly "has been" celebrities. I understand Dolph doesn't want people to laugh at him. But fuck it, you're making DIE HARD in a rock concert, you can't worry about not being plausible enough. So the biker should know karate, in my opinion. And use drumsticks as weapons.
In Dolph's defense he does take advantage of the rocker gimmick more then Seagal takes advantage of being a cook in UNDER SIEGE. But I still think he could do better. He could used a bass drum pedal to pound on somebody's head, a cymbal to slice somebody's throat ("Joe exclusively slits throats with Zildjian cymbals" it could say on the credits). He could spin a knife the same way he spins a drumstick. He could have a rotating airborne drumkit like the dude from Motley Crue, then lock a terrorist inside and spin him to death. He could lose an arm like the guy from Def Leppard. (okay, that one needs work.) There's alot more he could've done.
I mean, think about John Woo's BLACKJACK. That's one of my favorite Dolph pictures, and he plays a guy who's afraid of the color white who ends up having to fight a bad guy in a dairy with milk spraying all over him. That's a movie that's not afraid of some pricks laughing at it. It holds its head high and doesn't give a fuck what anybody thinks. It has high self-esteem. If his character in BLACKJACK was a drummer I believe he would've gone all the way with it, and that's the kind of Dolph movie I want to see.
I probaly don't need to tell you that the rock music is cheesy. Then there's this pop singer Venus played by Melissa Smith, best known to her friends and family I imagine, but also apparently for something called "The Pussycat Dolls Present: The Search For The Next Doll." For her act they just exactly recreate the type of prepackaged garbage real-life manufactured pop stars perform, and they show this at the beginning of the movie and on the end credits as if you might actually want to watch it. It takes a good half hour before the terrorists even take over and then they just sit in a room for most of the movie, there's no unfolding plan. So the story doesn't have much momentum. It's just not as exciting as it should be.
On the positive side, Dolph's not playing Russian. I appreciate that.
Oh well, Dolph is still cool, and he's the reigning Hardest Working Man in DTV. As the back of the screener says, "Dolph Lundgren has appeared in over 14 films since 2000!" Before THE EXPENDABLES he still has 2 DTVs coming out, UNIVERSAL SOLDIER: A NEW BEGINNING and another one he directed called ICARUS. That one looks pretty cool and has Bo Svenson in it.
Of Dolph's recent releases I'd say COMMAND PERFORMANCE is not as good as DIRECT CONTACT, MISSIONARY MAN or DIAMOND DOGS, but much more watchable than RETROGRADE (which I never reviewed because I turned it off after a while).
I hope some of you will enjoy it more than I did, but you'll have to wait until November 3rd. Until then I recommend checking out Jérémie Damoiseau's ultimate Dolph coverage at Dolph: The Ultimate Guide .
I'll be back soon with a couple more reviews including one that I believe might be (you better sit down for this) the best DTV movie of the year.
thanks fellas,
sorry Oleg,
–Vern
outlawvern.com