I don't really do these columns anymore, but what the hell. Here is a column I want to write. You don't have to read it if you don't want to. It's a free country.
I thought this was gonna be a followup or update to a previous column, but using the power of search engines I can't figure out where I wrote about this topic before. I don't know if it was in some talkback or comments or on the door of a bathroom stall or what but I could've sworn that somewhere I wrote about the phenomenon of the multi-millionaire owners of professional sports teams blackmailing taxpayers into building them unnecessary new stadiums. So forgive me if I repeat myself here.
There was this article on the front page of the Seattle Times yesterday about a proposal for an exhibit by the glass artist Dale Chihuly in Seattle Center. Seattle Center is not literally the center of Seattle, it's the grounds of the 1962 World's Fair, used as sort of a combination public park and tourist trap. It contains the famous Space Needle, the Frank Gehry designed Experience Music Project/Sci-Fi Museum (that place that had the Alien Queen), a short monorail track to downtown, a Science Center where you go to see the Imax movies, etc. It also has a section of low rent carnival type rides called Fun Forest which is closing down soon, and various parties are fighting over what to do with that spot.
Personally I wish they would give it to Linda and Michelle Lee, who have been trying to build the Bruce Lee Action Museum downtown, but I don't think they've tried to stake a claim on this place. Most of the proposals I've heard are along the lines of "it should be some grass and trees, where I can go to read a book." That shit pisses me off because there is already a whole bunch of grass and trees there and motherfucker I never once saw you reading a book there. Until the day I see a line of people waiting for a book-reading spot I'm not building you your own private reading meadow. Realistically the neighborhood needs to lure in the tourist dollars, so as much as I know for sure I would never once set foot in the Chihuly museum unless I got turned around and thought it was the men's room, I think it's at least a better idea than more grass.
So anyway take a look at the highlighted portion of this ineptly scanned article here (sorry about that, it should say "CHIHULY" at the top):

The arena in question is the KeyArena, originally built as the Washington State Pavilion for the World's Fair and known for many years as the Seattle Coliseum until it was remodeled in 1994-1995. The NBA team was the Seattle SuperSonics, who in the early 2000s were owned by a group headed by Starbucks CEO Howard Schultz. In 2004 those guys started saying that geez, although the recent remodeling of the arena won't be paid off until 2015 it's just such an old out of date piece of crap that nobody really can use it, and it would be a shame if we had to sell the team to out of town owners who would move them to another city, but we really would have no choice but to do that unless somebody did something thoughtful like give us $220 million to rebuild the arena with more private suites for rich people to hide in during the games.
It's a pretty good scam that has successfully bilked money from cities all across the map, but Seattle had already fell for it with the Mariners (Safeco Field) and the Seahawks (Qwest Field) and although those places are nice we felt a little weird about doing it a third time. My opinion back then was that I had recently seen Prince play the KeyArena, and if it's good enough for Prince it's good enough for the fucking Sonics. It had been 20 years since Purple Rain, but 25 since the one time the Sonics were NBA champions. So I'm gonna have to go with Prince on this one. Nothing wrong with KeyArena.
Sure enough the Starbucks guy sold the team, along with their WNBA counterparts the Seattle Storm, to some assholes from Oklahoma City. Those assholes had a similar "believe me, I really really want to stay here, but it almost seems like you guys don't want to give me millions of dollars for free during a time when the city is so bankrupt that the libraries have to close down for 2 months of the year. You're not giving me alot of choices here, guys." type of attitude.
Of course all the local politicians tried to bend over backwards to do exactly what the rich assholes wanted, but they were thwarted by Seattle's famous liberals. A group called "Citizens For More Important Things" drafted and overwhelmingly passed I-91, which prevented the city from funding stadiums for professional sports teams.
The Oklahomans weren't bluffing, they packed up the Sonics and left town. It's like that TV movie "I Know My First Name Is Steven," they're now hiding out with a creepy new dad, calling themselves the Oklahoma City Thunder. Those who weren't in the 75% who voted for I-91, or who live outside of the city but were hoping we'd pay for the stadium for them, said we fucked up. People started to panic. Alot of the restaurants in the neighborhood that counted on Sonics fans for business did have to close. It was rough going for a little bit.
But here's the beauty of it, the reason why I'm boring you with all this local history. We were confronted with a scam that many cities have faced, being blackmailed by a corporation, bullied into bailing out their broken business model. And the conventional wisdom is that you have to give them what they want because if you don't you're fucked. We didn't do that, we chose our own integrity over the NBA. We said yeah, we like basketball, but fuck you man, are you kidding me? No. No way. Get the fuck out of here.
And then as they were leaving we said "But you don't really need that women's team though, do you?" and they said, "What women's team? We own a women's team?" And we said "Yeah, I think so, why don't you look around for it and if you find it we'll take it off your hands." Four local business women who were Storm season ticket holders banded together and bought them from the Oklahomans so they could keep them in Seattle.
And that's the real pisser of the Chihuly article, because look at the other front page article that's right next to it: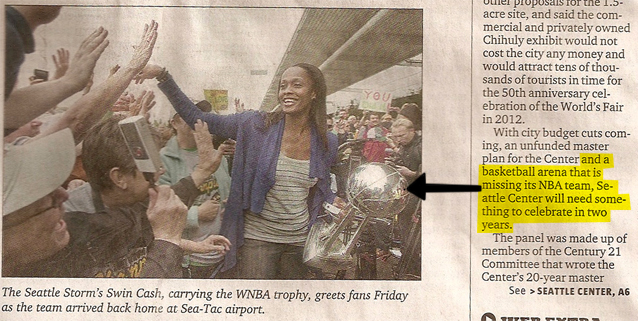 Dude, the trophy is right there! Nobody cares if KeyArena is "missing its NBA team" on the day when the Storm came home from Atlanta as WNBA champions.
We love the Storm. They've always been a good team, and they won the championship back in 2004 when Howard Schultz was just starting to dream of that new stadium smell. But this season was unprecedented. They only lost 6 games. They were undefeated at home, in that not-good-enough-for-NBA craphole. Of course the best games are the close and competitive ones, the ones with dramatic come-from-behind victories. They had alot of those, but at one game that I went to they made a new record for the biggest blowout in WNBA history, so that was fun too.
This year they got WNBA coach of the year, MVP and finals MVP. Since '04 they haven't done well in the postseason, but this year they swept both of their playoff series and also their finals. They had the highest winning percentage of any team in the history of professional sports in Seattle.
The Times heavily covered the win and the celebration and had a commemorative pull out poster in the Sunday paper. But they can still get away with that "need something to celebrate" line above because alot of men think the WNBA is insignificant or even a joke. Since it's women they gotta find some excuse to downplay their achievement. Yeah, they did well, but their season isn't as long, their quarters aren't as long, they don't dunk, whatever. In fact you could argue that women basketball players have to work much harder than men, because not getting paid as much most of them play in more than one league. For example our beloved MVP Lauren Jackson also plays for the Australian national team and has played for teams in South Korea and Russia. Even aside from that though some people who know what they're talking about say women play harder anyway. And that's not even bringing up that "men could never stand the pain of childbirth" thing.
Within the WNBA, Seattle is known as the largest and most passionate group of fans. The ESPN anchors often mention it and it's noticeable in the broadcasts – the crowds are so much louder at KeyArena. I think part of that is that the idea of a great women's sports team, and of the Storm in particular, fit the culture of Seattle in ways that an NBA team never could. They represent us well.
You may have heard that alot of lesbians love women's basketball. It's true and I like it. It's refreshing to go to a sporting event where you can hear women yelling at the ref, where you can see gay couples with their kids having a family day and not worrying about getting shit for it. I also like seeing fathers bringing their daughters to the games, bonding with them the way they're expected to with their sons. Seattle is gay-friendly and feminist-friendly so why shouldn't we like the WNBA more than other cities?
In Seattle we respect home grown businesses, locals who do something really well and turn it into a local institution. Okay, some of those businesses grow into monsters, like Starbucks and Microsoft, and we start to resent them. But at least our rich people tend to put their money into things they're passionate about, like Bill Gates with his foundation. Two of the Storm owners made their money at Microsoft, one was a deputy mayor, the other one an entrepreneur of some kind. But they never set out to own a basketball team, they just wanted to keep the team they loved in Seattle.
That's the kind of business we want here. Not somebody just trying to make as much money as humanly possible. So just the ownership of this team is very Seattle. In the victory parade for the team on Friday, as one of the owners rolled by in the back of a car, I heard people yelling out "Thank you!" I'm pretty sure Howard Schultz never got that even on his best day.
I do got one complaint: this year the Storm got sponsored by "bing," and put the fuckin bing logo on their uniforms so big you can't even tell where it says Storm. Not only am I against the crass commercialism and what not, but I'm just so tired of the endorsements because no matter how many times they try, they are not gonna trick me into thinking that there is anything that makes sense about the phrase "the official decision engine of the Seattle Storm."
But they also had a tie-in with the small local chain Top Pot Doughnuts, and I approve that one. If you ever get a chance to have the donuts from their cafes (not the mass produced ones they sell at Sounders games or at Starbucks) you won't regret it. If their uniforms said Top Pot on it in giant letters I probly wouldn't mind as much, I gotta admit, due to my strong opinions about the glazed old fashioned.
Anyway, the stuff I'm talking about is mostly symbolic. That makes it deep, that gives the Storm meaning. But you gotta acknowledge that the best thing about the Storm is just that they're fun to watch. I like their style. They do it like THE EXPENDABLES instead of RAMBO. So many teams (not just in WNBA, not just in basketball) are built around a star player or two who dominate all. The Storm have three superstars, Lauren Jackson, Sue Bird (both of them Olympic gold medalists) and Swin Cash, but unless there's an obvious window it's rare that one of them just plows through and tries to force it. Their style is to pass the ball around and the other team never knows where the pain is gonna come from. They'll put everybody on Jackson and they'll pay for it, because she's not the only one that can play. Even the second stringers on the team are very solid.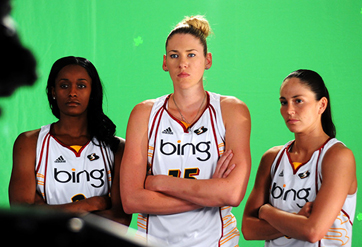 Another thing I like about them, and I apologize in advance for this, but I would rather watch these women running around for a couple hours than a bunch of men, you know what I mean? I'm not trying to get on some Harry K. horndog shit here, but this is telling it like it is, and it's one angle that I'm surprised the macho assholes who don't respect the WNBA haven't picked up on yet. I'm not completely enlightened, I must admit. I'm only human. The athleticism is the draw, but it only makes them seem hotter. It's a vicious circle. The stronger they are as women the more they attract that male gaze I read about one time. Sorry, ladies. I didn't mean to.
Also, Sue Bird used to have to wear a Hannibal Lecter type mask after she broke her nose. Extra points for pulling off that look.
You may think I'm some Johnny Come Lately to be writing about the Storm now, but I swear man I've been enjoying their works for a few years now. Unfortunately there is a sexist stigma against the women's sports in the U.S., except for Foxy Boxing which is very respected. So I admit, I didn't go around bragging about it. I only spoke about it in code and little hints, like a random reference in the opening of my DEAD-END DRIVE-IN review.
As I was trying to finish this column up there was a Q&A on C-SPAN, this guy Dave Zirin talking about what sounded like a really interesting book called Bad Sports: How Owners Are Ruining the Games We Love. Alot of what he was talking about was the public subsidizing of stadiums, how many communities get suckered into it and how it never works out for them financially. It really reinforced my feeling that we won this battle.
I didn't come here to sell you on women's sports or nothing, I just want to show an example of how the assholes don't always have to win. As a city we took this one stand against the assholes, we didn't buy them a stadium, and they tried to shit on us by taking our team away, but all their shitting did was fertilize the roses or whatever. (poetic imagery) We're so much better focusing our love on an awesome WNBA team than putting up with the abuse of a mediocre NBA one. As I mentioned in my review of WHIP IT the absence of the Sonics also paved the way for Rat City Roller Girls skating in the same arena where Jay-Z plays. That's another feminist, pro-gay, homegrown, even volunteer run organization with loyal fans and out of control success. No national championships yet, but only by taking the NBA's leftover stadium did they achieve the attendance record for modern roller derby. Man, it's so much better without the fucking Sonics.
Also, in order to get out of their lease, the Oklahomans had to pay off the debt from the previous remodel, so that year KeyArena made their first profit in about a decade. It's like the Music Man, the guy comes into town to pull this con job but he ends up enriching the town through music. And in this case I think he also ended up paying off everybody's student loans. Pleasure doing business with you, chumps. Yours truly, the champs.
This entry was posted on Monday, September 20th, 2010 at 1:53 am and is filed under
Vern Tells It Like It Is
. You can follow any responses to this entry through the
RSS 2.0
feed. You can skip to the end and leave a response. Pinging is currently not allowed.