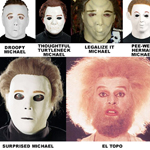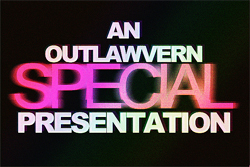 The clock just struck midnight here on the west coast, and thus begins the annual outlawvern.com Watching Of More Horror Movies Than Usual season. Try as they might the GOP were not able to shut down this hallowed tradition.
During October it is my official policy to only watch horror movies, excepting only the occasional new release that I feel the need to watch immediately. (You can't keep me away from GRAVITY, for example.) But I always figure there must be some non-horror watchers who are regular readers (even if they haven't made themselves known) so for you my friends I have some non-horror reviews on the backburner that I'll put the finishing touches on and posting throughout the month. So don't abandon me. I'll be there for you.
As usual I'll be conducting a SLASHER SEARCH, looking for slasher gems I haven't seen before. But this year I feel like going broader and trying to squeeze in more of the other flavors of horror if possible. I already have a longer list than I'm gonna have time for, but I always welcome suggestions. I can't guarantee anything but I am a man of reason so if you make a strong argument you might convince me.
thanks everybody
This entry was posted on Tuesday, October 1st, 2013 at 12:00 am and is filed under
Blog Post (short for weblog)
. You can follow any responses to this entry through the
RSS 2.0
feed. You can skip to the end and leave a response. Pinging is currently not allowed.