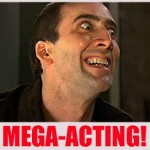 This guy Vlad Martinescu contacts me every once in a while to keep me up to date on Jean-Claude Van Damme happenings. He wrote to me today to tell me I should post about the upcoming super-limited theatrical release of ASSASSINATION GAMES starring Van Damme and Scott Adkins. I already did, and you can click the title there for the official websight which still has the same theater listings I posted earlier. But Vlad also mentioned a little video clip I hadn't seen before so I thought I would share it with you guys in case you didn't either.
Okay, there's almost no substance to it and it's done in a painful junket-interviews-transformed-into-entertainment-TV-for-stupid-people style, but in this clip from whatever "Rotten Tomatoes TV" is Cage will be allowed to briefly mention his admiration for Van Damme's performance in JCVD. Ironically they're trying to get him to do a sort of "guilty pleasures" type approach even though he's fucking promoting THE SORCERER'S APPRENTICE.
There are two other cast members that choose their own "Movie Confessions" and I'm a fan of one of those movies too but I won't say which one.
This entry was posted on Wednesday, July 20th, 2011 at 12:34 pm and is filed under
Blog Post (short for weblog)
. You can follow any responses to this entry through the
RSS 2.0
feed. You can skip to the end and leave a response. Pinging is currently not allowed.