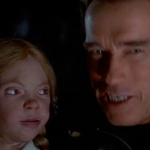 I guess when THE 6TH DAY came out I was less loyal to Schwarzenegger than I am now. I thought it looked shitty, so I skipped it. And I kinda forgot I never watched it. But now I feel bad that nobody's going to see the new Schwarzenegger and Stallone movies in theaters so I wanted to show my appreciation for their works by watching a movie from each of them that I skipped before.
With these low expectations THE 6TH DAY worked out well. It's enjoyable lesser Arnold, clearly better than COLLATERAL DAMAGE and arguably more consistent than ERASER or END OF DAYS. It takes place in "the near future – sooner than you think," when cloning is a thing. Cloning humans is illegal, but Re-Pets (clones of your dead pets that you can buy) are popular and Dr. Griffin Weir (Robert Duvall) has made strides in cloning human organs for transplants, though not without protest.
Schwarzenegger plays a charter helicopter pilot, mostly for snowboarders. He's ex-military (a veteran of the Rain Forest Wars – I smell prequel trilogy) but not a cop or anything, just a regular family man with a wife (Wendy Crewson), a daughter (Taylor Anne Reid), a dog, a best buddy from work (documentarian Michael Rapaport) and a house in the suburbs of Vancouver, BC (or whatever city they say this is, but you can't sneak that Expo 86 geodesic dome past a pro like me). Then after a weird day at work he comes home and sees himself already at home with the family. He's not a ghost or a schizopolis, he's been cloned! And Michael Rooker, Terry Crews and some lady (Sarah Wynter) are trying to kill him. What the hell is going on? He has to go on the run.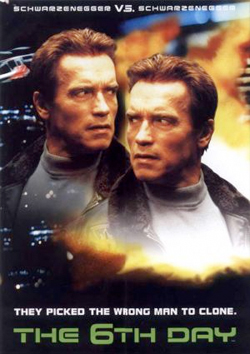 These types of depictions of near-future-sooner-than-you-think culture and technology are always kinda fun. This one includes not just clones and cloning ethics debates but also self-driving cars, laser-razors, mirrors with TVs in them, refrigerators that identify when the milk is almost gone and order more, holographic virtual girlfriends and legal representation, light-up ID in wallets, smoking banned even for private use, laser guns… but the computers still use mouses. The funniest "whoops, that didn't pan out" near-future prediction is the major scene about a famous XFL star. If you don't remember XFL, it was Vince McMahon's "Xtreme Football League," which lasted only one season in 2001.
The funniest effect in the movie is the Sim Pal, the popular doll of the moment that talks and moves and is supposed to seem really real. But this thing is hideous! It looks like they used really sophisticated animatronics, not CGI, which is impressive. But they had to make it look weird to stuff all those tubes in there. It looks like Chucky's evil face or the movie Garbage Pail Kids. It keeps talking and annoying these characters until it gets its head shot off, but nobody ever points out how creepy it looks.
I like watching them establish how the different technology works and then waiting to see how it comes into play in later action scenes. The most obvious one is the high-speed helicopter that he can control remotely, but I never understood the reason why he would have it in his every day job. Only how he would use it when people are trying to kill him.
I guess they do try to use it thematically. He says gleefully, "The new remote came in. Out goes the old one!" It's notable that early in the movie he's looking in the mirror for wrinkles around his eyes, and obviously he's worried about the clone replacing him like he did the remote. I said THE LAST STAND was the start of his old man period, but here there were hints he was going in that direction 12 years earlier.
I don't know if this movie is worthy of Duvall's talents, but it's cool that he was willing to do it and give an emotional performance. He's not the bad guy, he doesn't realize the extent of how his technology is being used and how much he's being taken advantage of because his wife has a condition that can only be helped by cloning.
It's got a different approach to cloning than I've seen. They grow "blanks," veiny, alien-looking, not-alive humanoids that are implanted with DNA and memories to grow into a living clone. That makes it a quick process, so the thugs can keep getting killed and coming back. It's still kind of a pain though, they gotta re-pierce their ears and stuff.
The action is fine, not real exciting like if it was a James Cameron movie. One weird thing that made me laugh is one of those shots where the hero leaps sideways across a room while being shot at and a shot just barely misses him. In this one the shot hits right in front of him, so really he's almost jumping into it, not dodging it. He lucked out.
This is an action sci-fi story about a regular guy's life being interrupted by craziness, and he questions who he is, who he can trust and what's going on. There's some humor and some light probing of real issues. And it stars Arnold Schwarzenegger. That's TOTAL RECALL, right? Well, director Roger Spottiswoode (TOMORROW NEVER DIES, TURNER AND HOOCH, STOP! OR MY MOM WILL SHOOT) is no Paul Verhoeven, but also this is the rare PG-13 Arnold movie. That's not a disaster, but you can tell something is missing. Verhoeven's envelope-pushing violence added that extra punch that makes you feel the danger and brutality of its world. 6TH DAY is as safe as the mall where you buy your Re-Pets. It's Diet Total Recall.
The best terrible one liner is a convoluted one where the douchey Bob Saget lookalike villain (Tony Goldwyn) has to be nice enough to play straight man and set him up for the punchline:
Arnold: "If you really believe that then you should clone yourself while you're still alive."
Villain: "Why is that? So I can understand your unique perspective?"
Arnold: "No. So you can go fuck yourself."
It comes up again later when the clone is on top of the other one and he says, "When I told you to screw yourself, I didn't mean for you to take it literally." First you laugh because he had to misquote himself in order to follow the one-fuck-per-PG-13 rule, then you laugh because obviously he did mean for him to take it in exactly that way, what else would two clones fucking each other mean? This particular quip needs alot more work, Arnold.
To be fair, I did laugh at a variation on his annoying tradition of putting "I'll be back" in everything. This time it's not used as a one-liner, he just leaves the Re-Pet store undecided about what to do about the death of his dog, and says to the salesman "I might be back."
Let me tell you another really good thing about this: Arnold gets cloned. And he plays both of them, it's not Danny Devito. The two aren't together that much, but when they are it's pretty funny. They seem really jealous of each other, and criticize each other's carpentry skills and stuff. Arnold punches himself out at one point. Most movies these days do not have one Arnold Schwarzenegger punching out another Arnold Schwarzenegger for sleeping with his own wife. So clearly THE 6TH DAY is worth watching once.
read all of my Schwarzenegger reviews here
This entry was posted on Monday, February 11th, 2013 at 10:54 pm and is filed under
Action
,
Reviews
,
Science Fiction and Space Shit
. You can follow any responses to this entry through the
RSS 2.0
feed. You can skip to the end and leave a response. Pinging is currently not allowed.