Cash is the full name of a big-shouldered, square-jawed, fresh-out-of-the-pen-and-eager-for-revenge individual on a rampage in an unnamed city that happens to have the Space Needle in it (more on that later). He's a guy nobody should ever fuck with, but unfortunately for a couple guys it's too late for that. They betrayed him on a messy bank job, and you never really know what could happen but I'm leaning toward him not accepting an apology. In the opening narration he says something like, "I was only ever good at two things. Killing's one of 'em. I forget what the second one is." So he goes to different clubs and back rooms roughing people up, shooting off heads, biting off ears, trying to get to the big man who betrayed him, or something.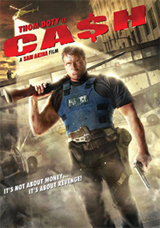 There's not that many movies shot in Seattle, but for those that are there's a code. If there's a shot of the Space Needle it takes place in Seattle. If there's not it's an unnamed city. For example, IT HAPPENED AT THE WORLD'S FAIR takes place in Seattle. WORLD'S GREATEST DAD takes place in an unnamed city. In CA$H they keep referring to "the city" and never Seattle. And they have redneck bartenders and cops who wear cowboy hats. They refer to things like "that Spanish joint on the South side" and everybody knows what they're talking about. They have Mexican drug gangs, Russian mafia, La Cosa Nostra, big time Asian gangs like Triads or something, black market organ peddlers.
Okay, maybe we have some of that, but cowboy hats? No way. This isn't Seattle.
But then there's a sped up driving shot where you can see the Space Needle for a second. Ah ha! Seattle!
Although the cover looks like typical DTV action this is actually an independent rookie production with even less polish than most DTV but way more energy and enthusiasm than you can usually count on. According to a local newspaper article the budget was $56,000, and that's only after an initial $25,000 version turned out bad and the lead actor gave the director another $25,000 to reshoot. It has some of the home-made charm of EL MARIACHI, but with more scope and some surprisingly good casting. That said, I was obviously more lenient than some of you will be, because I was impressed to see some of the local youths staging big shootouts and stuff. Some of it's amateurish and to be honest I didn't really understand what it was that Cash did at the end to trick his enemies, but the stunts are better than I'd expect from local boys, so I was rooting for them to pull them off.

The biggest drawback: it's definitely in that category of movies by dudes who saw RESERVOIR DOGS and LOCK STOCK and decided they knew all about the underworld. I think there's a little SIN CITY in there too. I thought we were done with these film student gangster movies a long time ago, but this one is tolerable. It takes itself less seriously than many, and I don't remember any pop culture references. And there are several inspired ideas, like the scene where Cash accidentally blows a guy's head off right as he's giving up the information, or a major plot point where a flunky mistakenly starts a 3-way gang war by mixing up the body parts he's supposed to deliver. (And this leads to some humorous situations like the Chinese trying to interpret what kind of message to take from the Italians sending them a black market kidney.)
There's even a moment or two when the self-conscious tough guy talk turns out to be a setup. Just as I was groaning at the cliche of a gangster referring to all of his rivals by racial slurs another character lectures him about racism and says, "My partner is African-American!"
These moments probly wouldn't be enough for the movie to float on, but there is one thing that I think does the trick, and that's this guy Thom Doty who plays Cash. He's a huge linebacker or wrestler type with an old fashioned face. He could've played Marv in SIN CITY with only a little scar makeup. He's like a cross between Patrick Warburton and Tom Berenger. I mean, he does seem like a first time actor, but he's funny, and such a cartoonish physical specimen, and convincing in the fights. That article I mentioned said the director Sam Akina met this guy when he was bartending at a golf club and he wrote the movie for him. Good choice.
He's a funny character, too. When another criminal threatens to kill his friends and family, he says that he has no friends or family. One of his enemies tells his backstory from the very beginning – I mean, the very beginning. He blames the Cash phenomenon on him being a dumpster baby.
Cash does disappear for a long stretch 2/3 of the way in, but luckily most of the cast is pretty good, especially the Seymour Cassell-looking organ dealer and the non-racist vice cop.
A word about regionalism. It's kind of funny to see somebody filming in Seattle and trying so hard to make it seem like California. Come on man, most movies are filmed in California. You're in uncharted territory here, that's an advantage. I think people filming somewhere that's not California, New York or Vancouver ought to try to make use of the unique qualities of wherever they are. If this took place in an overcast port city and shit maybe it would stand out a little more from all the other post-Tarantino movies and, if it still didn't catch on everywhere, at least might be locally popular. Something to lure the kids out of their Boondock Saints hoodies. Instead they seemed to be trying to make it unidentifiable, like they're ashamed to be here, they don't think it will look like a real movie if it looks like Seattle. But I guess the director had only lived here a couple years anyway, so that's fine. Not a big deal. Enough about that.
I don't know what you guys will think if you see this. It's definitely a genre that could use a hiatus or complete head-to-toe reinvention. But it's a fun movie and I'd like to see this guy at least try his hand at a purposely DTV action movie. That market needs some new blood to help push us into the post UNIVERSAL SOLDIER: REGENERATION golden era. But more importantly I'd like to see more of this Thom Doty.