CHRISTMAS EVIL started life as YOU BETTER WATCH OUT, but according to writer/director Lewis Jackson, "some asshole who bootlegged the film changed the title card over and over and over again" and it got better known under the other name. I'm not sure which title I like better, they're both pretty good. Whichever one you want to call it it's kind of an alternate take on the SILENT NIGHT, DEADLY NIGHT type of Santa-Claus-related-childhood-trauma-sends-troubled-man-on-homicidal-rampage-dressed-as-Santa story. Both use the MANIAC approach of following the slasher, not the slashees, so you get to understand him, maybe feel a little sorry for him, or maybe just think Jesus and be creeped out by him.
(Jesus is the guy's birthday we're celebrating here, by the way. I'm not using his name in vain, I'm trying to keep him in the conversation. Nobody dresses up as baby Jesus when they go on these Christmas horror rampages, I've noticed.)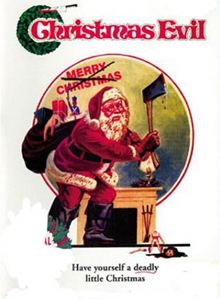 SILENT NIGHT, DEADLY NIGHT (which came four years later) is more successful as a slasher movie I think. They go a long way to set up why this guy would flip out. His parents were killed right in front of him by a guy dressed as Santa. The orphanage fucked him up more with beatings and sexual repression. Then his boss made him dress as Santa and his co-workers got him drunk and it all kind of combined into a Killer Santa cocktail. It's a bad day at the end of a bad life. It kind of makes sense.
CHRISTMAS EVIL is more far-fetched, but the weirdness is the appeal. This one's loosely based on the song "I Saw Mommy Kissing Santa Claus." When Harry (Brandon Maggart) was little in 1947 he saw Santa sticking his face between mom's legs, and that really upset little Harry. Now it's "present day" and he's weirdly obsessed with Santa. His home is filled with old Christmas decorations even on Thanksgiving – I suspect he has them all year round. He wakes up in Santa Claus pajamas and admires himself in the mirror with a shaving cream beard. He works at the "Jolly Dreams" toy factory where he was recently promoted and misses working the line – this must be the only factory in America where white people manually put cheap plastic motorcyclists on cheap plastic motorcycles. The American Apparel of toy companies.
Really depressing factory though. Makes Silver Shamrock look like Willy Wonka's Chocolate Factory.
In his spare time Harry has a disturbing hobby: he spies on neighborhood boys and girls and keeps notes about whether they're naughty or nice, in his estimation. I don't understand why seeing Santa Claus eat out his mom makes him want to be Santa Claus, but– oh geez, I guess I do understand. The guy has more issues than I initially realized. Anyway, it's about the police state, man. Big Brother spying on everybody, or something.
His interactions with the kids are the creepiest part of the movie, although also what makes him different from other Killer Santas, and slashers in general. He gets really upset when he sees one of the kids looking at a Penthouse, it just pisses him off. After spying he goes to a big book which he writes notes in, not a crazy SE7EN style notebook or Unabomber manifesto, but very nice calligraphy. For the kid with the porno collection he adds "Impure thoughts – negative body hygiene" to a long list of sins. But for a little girl who apparently didn't do anything bad all he writes is "Just a darling."
At one point he walks down the street and the kids see him, and you find out they actually know him. They ask him what he wished for today (huh?) and he yells, "I wished I was super magic!" Unfortunately the little smelly kid says, "I wish I had a lifetime subscription to Penthouse Magazine!" Anyway, no other adults see this conversation to suspect what a weirdo he is.
Like any good MANIAC style movie he has people in his life who don't know what goes on in his mind, or at least the extent of it. He has asshole co-workers who think he's a dipshit and take advantage of him. In one overly obvious case a guy gets him to cover his shift, then is spotted at a bar exactly as he brags that he lied to him and really didn't need "that schmuck" to cover his shift.
Also he has a family including his hotshot, push-up doing brother, played by the guy in THE WALKING DEAD who wears the fishing hat all the time, who often rants about how "lame" he thinks Harry is. The sister-in-law and nephew like him, though. His troubles cause him to snap as he's watching Santa Claus arrive in the Thanksgiving Day parade. He cancels plans to visit his brother and dedicates his time to Santa Claus type activities, like painting a van to look like Santa's sleigh.
Yeah, he's Santa now, but he lives a double life. He can still pass at a Christmas party with his fellow Jolly Dream executives. When he finds out that they aren't really donating as many presents to a children's hospital as they claim to be in their PR materials he decides to take the law– well, I guess he decides to take charity into his own hands. He uses his access to the factory to get the toys and delivers them to the hospital dressed as Santa. You don't really know what he's up to, and the security people are suspicious of him, and he starts crazily shouting "MERRY CHRISTMAS!" in a way that's a little threatening, but there's no catch. He's really donating a bunch of toys to a bunch of sick kids.
That's what makes him the most interesting Killer Santa I know of. He's not completely hung up on punishing the naughty kids. Bringing presents to kids is actually his main activity. But, uh, he does run into some rich pricks coming out of an Ivy League party and finds himself stabbing a guy's eye out with a toy soldier and then axing three people in front of a crowd of witnesses. So things get bad from there. Worse than they did for the Grinch or Jack Skeleton, arguably.
I don't want to give everything away, but then again I want to talk about how awesome this is. So I will give three (3) major SPOILERS, but without any detail:
1. Killer Santa ends up getting chased basically by a crowd of angry villagers
2. children take the side of Killer Santa
3. there is an ambiguous ending that (at least in the director's cut) I took to represent Harry's fantasy, but that has been interpreted by others as magic realism where he actually gains Santa powers
If you want to see the best Christmas slasher movie I'd probly have to send you in the direction of BLACK CHRISTMAS, but if you want the most interesting one this might be my top candidate.