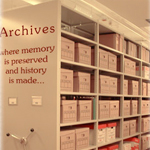 I'm trying to decide if Clubside Chris is my Q, or my Lucius Fox. I would say he's the janitor from DIE HARD 2, but he's too high tech for that. And it wouldn't be nice to say he's Kevin Smith from DIE HARD 4.
Anyway he's been striving the shit out of the excellence and is programming in his computers and everything and honestly I got no clue what he's doing with most of this but he keeps coming up with great features for outlawvern.com. What he's really been sweating over for a while is this database that creates new and better ways to browse the review archive. If you look above there's a "Reviews" button you can click on that goes to a dropdown menu with the different options. You can look at all my reviews in traditional alphabetical order, you can look at them in chronological order by release date, you can flip through the fancy timeline version…
The options I'm really excited about are the ones that are sorted by category: all my DTV reviews in chronological order, all my slasher reviews. There's a new one called "Icons" where you can access all my Nicolas Cages, all my Dolphs, stuff like that, with all the movie posters of the reviewed titles, in release order.
I love these because I'm jumping around watching and writing about all different movies and they're slowly forming into this history, so I can look at them in context. I can look at the DTV list and see that the earliest one I've reviewed is VIDEO VIOLENCE from '87 and the next is SILENT NIGHT, DEAD NIGHT 3 in '89, so that encourages me to look into what else came out before and around that time and see what's up. It takes these scattershot writings and forms them together into a body of research that I'm building for the betterment of mankind or whatever.
Anyway when you feel like reading some reviews please try these features out and let Chris know what you think or any suggestions you have for how it could be even better.
thanks everybody and thanks Chris
This entry was posted on Thursday, December 6th, 2012 at 12:26 am and is filed under
Blog Post (short for weblog)
,
Site News
. You can follow any responses to this entry through the
RSS 2.0
feed. You can skip to the end and leave a response. Pinging is currently not allowed.