For some reason I was thinking of this song the other day. Like others of the 21st century, I got one of these iPods, although I got it specifically to drown out the sound of people talking on cell phones on the bus when I'm trying to read or write. Somehow I got "Way Back Home" going through my head but I didn't have it on my iPod so I couldn't listen to it.
At home I didn't have it on CD, but I had it on a "the Crusaders at their best" LP that I tracked down after I first fell in love with the song. I'd been meaning to get it into my iTunes but I hadn't figured out how to hook up the turntable since finally getting a new computer last year. But today I decided it was time to do it.
See, I never knew about the Jazz Crusaders back in the day, but I started trying to find out about them when I heard this song on a documentary in 2006. Specifically, it was AWESOME, I FUCKIN SHOT THAT, the Beastie Boys concert doc directed by Adam Yauch, who died this morning.
It's not really a movie I ever watched over and over, but two parts really stuck with me: the beginning and the end. The beginning makes me laugh every time I think about it: a completely incongruous text crawl about Fidel Castro and Cuban refugees.  For a second you're thinking, what the fuck is this? Is this the right movie? And then you realize that you're hearing Giorgio Moroder's electronic score from SCARFACE. This is the opening of SCARFACE! After going through the whole thing, it says something like "Regardless, in 2004 Beastie Boys played Madison Square Garden…" and it goes into the movie.
The movie is the concert, documented by 50 fans who were given camcorders. Yauch weaves the footage together showing many perspectives, good seats and bad, including some dude sitting near Ben Stiller. You can see the movie on DVD or read all about it but it's the end that I wanted to talk about. After they've left the stage, "Way Back Home" plays…
First time hearing it I thought it was a little easy-listening for a second, with those saxophones and everything, that simple, laid back melody, repeated over and over. It seemed kind of tongue-in-cheek to present this song to the stadium full of amped up Beastie Boys fans. And then I started really hearing that beat and that funky bassline, and it clicked. The beat starts getting hard as hell, breakbeat worthy, driving that mellow stroll the rest of the band is going on. I think there are two beats overlapped, actually.
It sounds kind of sad to me, but kind of nostalgic. Like, it's been a great concert, we've had fun, sad to leave, but let's appreciate what's in the air right now, let's leave with smiles on our faces. The perfect choice to play as the fans are leaving, excited about what they've seen, and the group is backstage hugging Biz Markie, getting ready to get back on the bus.
Last year Yauch directed the half hour short "Fight For Your Right Revisited," in which Danny McBride, Elijah Wood and Seth Rogen play the Beastie Boys immediately after leaving the party/pie fight from the 1986 "Fight For Your Right To Party" video. They're confronted by angry parents, break into a bodega, steal beer, walk down the street spraying it on people, and eventually encounter future versions of themselves (Jack Black, Will Ferrell, John C. Reilly), who have a dance battle and then pee on each other. Those future versions are wearing their same outfits, and are described by McBride-as-MCA as "the ghost of License to Ill future," a possible future. What's beautiful is that that's not the future they ever had in store.
That's one thing I really respect about Yauch is the evolution he went through in his short life. He and Beastie Boys started as bratty beer-spraying would-be-frat-boys-if-they-went-to-college. That attitude doesn't change the revolutionary breakthrough that their first album was, not only in bringing hip hop to the mainstream but also in its unique rock-inspired production by Rick Rubin. Then they got sick of themselves, threw away about half of their style and image and made their second album, up there with It Takes a Nation of Millions To Hold Us Back as one of the all time great sample-scapes. An album that could never be made again, partly because it's lightning in a bottle, partly because it's illegal.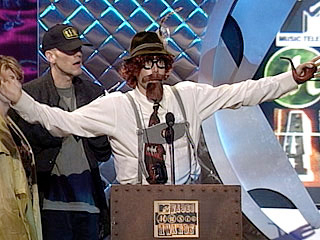 For more than two decades they continued to reinvent themselves musically, while Yauch in particular changed himself as a person, going from the dust-smoking tough guy of the group to the introspective Buddhist, starting charities for Tibetan freedom while also being a goofball directing some of their videos and confusing entertainment reporters by crashing award shows in lederhosen, babbling about Spike Jonze creating Star Wars. In recent years he founded Oscilloscope laboratories, bringing attention to and high quality releases of a vast catalog of documentaries and independent films. From what I understand he had a big hand in what they put out (and his basketball documentary GUNNIN FOR THAT #1 SPOT is supposed to be great, not sure why I haven't watched it yet).
He had this very serious and political side, but was still a funny dude. The same dude that was going onto the roof of his hotel throwing eggs at tourists while in the middle of recording an all time classic album.
The other thing I respect about all three of these guys is the way they defiantly did their own thing the whole time. It was crazy for white boys to be rapping in clubs in 1986, but they did it. It was crazy for rappers to be opening for Madonna at that time, but they did it. It was kind of a joke, with all their corny slang and style (the VW hood ornament on Mike D's gold chain instead of Mercedes), but also they legimiately loved, respected and help evolve hip hop. It made sense when they toured with Run DMC, but also when they started playing instruments and were doing festivals that the Red Hot Chili Peppers would do. Almost all rappers, including the greats, at some point in their career start imitating the rap music that is popular at the time, desperately trying to stay relevant. Beastie Boys stayed relevant by never fuckin doing that. Taking their time on an album, going where their hearts took them.
Beastie Boys were cool nerds before it was cool to be a nerd. They were complete dorks who stormed into a scene with funny hats and a giant inflatable dick and somehow made people respect them. They were white Jewish kids who loved black culture but didn't pretend to be a part of it, legit hip hop without ever pretending to be gangsta. They loved pop culture and punk rock and crate digging. They had more hits than my man John Woo. Yauch was a great example of becoming a better person and more enlightened without ever having a stick up his ass. Trying to do the right thing and never turning up his nose at everybody else.
I can't listen to Stevie Wonder's "Never Dreamed You'd Leave in Summer" or "They Won't Go When I Go" without getting sad about Michael Jackson, because Stevie played those for him at his memorial service and they were so perfect. For me today "Way Back Home" is the perfect song to eulogize MCA, so I've been listening to it too many times. The title even fits the occasion, although it maybe sounds like a more Christian concept of death than a Buddhist one. But listen to this song – it's like Beastie Boys themselves. At first it's "is this a joke?" and then it's "this is actually good!" and "holy shit, this is funky!" It says I'm sad about this, why the fuck does this type of shit happen to so many good people, but also let's appreciate how good it was to have him around contributing to our culture. We wish we could have him longer, at least he crammed alot in there like he knew it was only gonna be 47 years.
thanks Adam Yauch, good work
This entry was posted on Friday, May 4th, 2012 at 5:53 pm and is filed under
Blog Post (short for weblog)
. You can follow any responses to this entry through the
RSS 2.0
feed. You can skip to the end and leave a response. Pinging is currently not allowed.