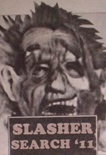 Here's a weird one. Martin (Pierre Lenoir) comes home one day to find his wife Alice (Lynne Adams – "Yakuza with rocket launcher" in JOHNNY MNEMONIC) cutting his suits into little squares. After Alice has a stint in a mental hospital the couple comes to live in a new house, still undergoing some refurbishment.
One night Alice wakes up and hears power tools being used in the basement. She investigates and finds a dude (Wings "Ramrod" Hauser) still working on the house. He explains that he has a strong work ethic and won't stop until the job's finished.
Over time Alice develops a friendship with this weird carpenter. With his corny inspirational slogans he's probly full of shit, but he's definitely more supportive than her husband, who turns out to be a sleazeball professor sleeping with one of his students. Because Alice is the only one that ever seems to see The Carpenter, and since it's weird for him to be working in the middle of the night, and also since she has had some mental health problems in the recent past, you assume he's probly a hallucination. But then the guys working on the house keep noticing the progress that he's making and get pissed because they think their boss is bringing in "scabs" (a hypocritical thing to worry about when you're a non-union guy working shittily for cheap).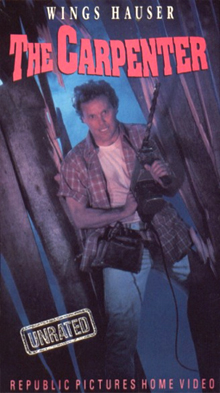 And of course as people do bad things to Alice the Carpenter intervenes and uses his circular saw, drills, staple and nail guns on them. Because he's The Carpenter. Although there are some goofy arm severings the emphasis of the movie is not really on these killings. It almost seems like they just put them in there and rushed through them because it was the '80s and they knew people would expect that kind of stuff. Everything is surreal and ambiguous. After mutilating one guy he pins him against the wall to politely make room for the lady to pass by unobstructed by bloody dying mutilated victims. Nobody finds the bodies or seems to be looking for the missing people, although sometimes it is noticed that they're gone.
In one of the more bizzare scenes a sheriff (Ron Lea) shows up at the house on a motorcycle. I believe this actor is trying to mega-act a little bit, but arguably without the skills to do it safely. He makes a huge show, revving his engine, chewing his gum, doing a funny two-handed knock on the door. He comes in and talks to her, never taking off his sunglasses, saying he's just there to welcome her to the neighborhood. You assume he really knows something is up and will be back. Then you never see him again. He does provide some exposition though about a former owner of the house. We can now assume The Carpenter is some kind of ghost. Or the house makes its inhabitants go crazy. Or crazy people bring out the evil in the house. Or something.
By the end I believe we're dealing with a movie where the protagonist is considering leaving her husband for a murderous ghost. I mean, that's gotta hurt. But he's a shitty husband, you can't say he doesn't deserve it at all.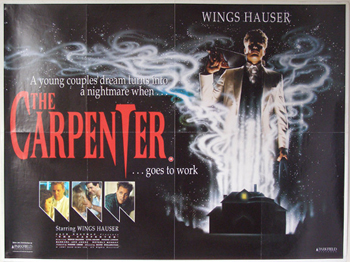 There's definitely some class tension here. One of the dumbasses working on the house has the hots for Alice because she's "classy," and he gets pissed off when she isn't charmed by him showing up drunk at her house at night. This is a pretty insulting depiction of the working man as a beer-swilling, sexually aggressive moron who doesn't even seem to understand the risk of hitting on the wife of the guy you work for. You know man, she would have good reasons to turn you down other than being stuck up.
Although the subject matter's real different it kept reminding me of THE STEPFATHER, maybe because it's so based in one suburban house location and in combining old fashioned American family values with evil and murder. But THE STEPFATHER is more clear in what it's trying to say and more direct in being suspenseful and scary. The appeal of THE CARPENTER is more in unpredictability, because what the fuck is it up to? It's usually hard to tell.
The director, David Wellington, later became a pretty prolific TV director, working on shows including The Kids in the Hall and the American version of Queer As Folk. The writer, Doug Taylor, later wrote IN THE NAME OF THE KING: A DUNGEON SIEGE TALE, THEY WAIT and SPLICE. He probly always regretted that the girl didn't fuck the ghost, that's why he was sure to have an Academy Award winning actor fuck his monster daughter in SPLICE.