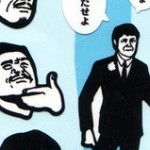 Okay, here's your spot to talk about Josie and the Pussycats or whatever. I know there were alot of good suggestions for the subtitle, and I forget who to credit for suggesting this one, but he was correct. All part 4s should be called either THE CRACKDOWN or STAR WARS.
Thanks everybody
This entry was posted on Thursday, September 22nd, 2011 at 12:55 pm and is filed under
Blog Post (short for weblog)
. You can follow any responses to this entry through the
RSS 2.0
feed. Both comments and pings are currently closed.