Somehow I made it to the futuristic year of 2010 without ever seeing CITY OF GOD. I don't know, just one of those things I never got around to, like skydiving or owning a house. But hey, the rest of the world: you were right! This is a good one.
You remember it: Crime in the slums of Rio De Janeiro, etc. The filmatism is frantic: alot of quick edits, handheld cameras, montages with lots of closeups, even some bullet time-esque rotating cameras. Occasionally it's disorienting (especially since I'm trying to read the subtitles) but I think it's closer to Scorsese energetic edits than, you know, that slapdash post Michael Bay shit we keep getting. And in contrast with many of that type it's not slick or digital, it's grungy and organic. It's shot on location in the real favelas, with a cast mostly of real slum kids. So it looks like nothing you've seen before. (Except CITY OF GOD, since you all saw it a long time ago. Sorry, I'm catching up. Or SLUMDOG MILLIONAIRE, since they used pretty much the exact same approach, just in a different country.)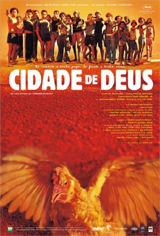 The non-linear-first-person-narrator-telling-the-story-of-my-life approach works real well. It paints a good portrait of Lil' Ze, Benny, Steak 'n Fries, Knockout Ned, Rocket and others. It's almost novelistic in the way it lays out all these people and factions. So much to keep track of, but vivid enough that you remember. Lil' Ze is a great villain because he's scary and still seems like just some dumbfuck you know. A cross between Nino Brown and a guy from your high school. The scene where he first shows he's a fuckin psycho is terrifying. He's still a kid, and he gives the older kids this idea to rob a hotel, but they make him stand lookout. Then when the guys are leaving they find a bunch of dead bodies, and you don't know why. A little later the story loops back and shows that Lil' Ze (still called Little Dice at that time) didn't want to just wait outside so he went in and shot everybody for no reason. He comes out of there laughing, and the look on that kid's face… holy shit. Keep an eye on whoever that actor is. He might snap.
Then he's older, and everybody accepts him as the boss, and it seems like he's the man until Benny gets annoyed by his constant obsession with turf wars and says "You need a girlfriend." This leads to the long ingenious scene at the dance club, which starts out funny with Lil' Ze awkwardly trying to get a cute girl to dance with him and slowly builds to horror. I love that Lil' Ze doesn't know how to dance. It gives him a vulnerability when he's asking her to dance. Then when things don't go his way it becomes a source of dread. Every cut from somebody smiling and dancing to Lil' Ze standing there frowning pulls the tension tighter. Rarely has social awkwardness created so much terror.
I also like the way it pieces out information, laying the groundwork for later. For example there's the scene where Rocket and his friend are trying to stage robberies, but every time they're about to do it they decide the person they're gonna rob is "cool" and they can't go through with it. One of these is the guy that takes the fare on the bus, who turns out to be Knockout Ned, a crucial character. This absolutely could be just a bit part, so you don't realize at first that the conversation is setup – it tells us that he was the best marksman in his army unit. This will come up again. (I gotta say though, it was disappointing that they made a big deal about his karate but then he didn't ever use it. In an action movie that would be a mortal sin.)
The cast of unknowns is excellent across the board. The guy that plays Benny reminds me of Taye Diggs for some reason. I had no idea that the one major female character was Alice Braga from REDBELT and I AM LEGEND. Maybe this will be like KIDS where all these non-actors that were in it end up having long careers in Hollywood.
The setting of this movie is completely fascinating. I gotta be honest, I didn't realize this was going on – it's a much more extreme gap between the rich and the poor than you see here and in many countries. It's hard to believe the city and the favela are even on the same continent, they're like entirely different worlds. You know how in THE GODFATHER there are all these people who appreciate Don Corleone because they can come to him with their problems and he'll use his influence and power to help them? Here you have that in place of local government or services. After the movie I watched a few episodes of the related TV series CITY OF MEN. It's a little less heavy, dealing with everyday problems like getting the money to go on a field trip. But it's really eye-opening to see how these kids have to negotiate with gang bosses to get things done. One episode is about the lack of mail delivery, maps or street names in the favela.
I hope I have time to watch more of that show some day. It's not the same feel as the movie, but it's really interesting and does a good job of showing things from different perspectives. Sometimes they do a gimmick where it switches to video and you know that means it's real footage. In one of the early episodes there's a scene with a bunch of kids playing video games, and it stops for a long interlude of the actors telling stories to each other about all the dead bodies they've seen.
By the way, good news: that little maniac who played Lil' Dice is the main character in CITY OF MEN, and at least in the first season he's a good kid. So I'm less worried about that actor snapping now.
Anyway, the CITY OF GOD characters and story are as enjoyable as any good crime epic like this, and the unique setting takes it up a notch. But as much as I loved this movie I have to say that an extra on the DVD, NEWS FROM A PERSONAL WAR, was even better.
Fernando Meirelles usually gets the credit as director of CITY OF GOD, but he actually co-directed with a woman named Katia Lund. A couple years earlier, in 1999, Lund (along with Joao Moreira Salles) did this hour long TV documentary about the crime problem in Rio. It tells a history of the gangs through three general perspectives: the gangsters (both young and old, free and imprisoned), the residents, and the police. Young gangsters parade around in front of the cameras with guns and masks, talking about being beat up by police, about being poor, trying to defend their drug dealing as the only way they can get by. Older gangsters reminisce about the days when the gangs were a political movement launched from inside the prisons.
A family who live in the favela talk about how dangerous it is, the type of horrors they see, and how crazy and stupid it is. But then they talk about the good things the gangs do for them, like get them medicine when they're sick. Frank Lucas in AMERICAN GANGSTER bought turkeys and toys for the community during the holidays, to win people over. It seems like the Brazilian gangs take it a little more seriously. They provide health care too.
Then they talk to some police officers. The way they talk about their job is exactly like a soldier in Iraq or Afghanistan. They go out there and they risk their lives, they chase after some kid and if they kill or imprison that kid, the next day they'll be chasing after another one. And eventually some kid will probly shoot them from behind or above. They started out wanting to make things better, and now they're in limbo. They're running on a hamster wheel. There is no goal, no progress, no exit strategy. Just violence every day, rinse, repeat. They seem to become more disillusioned and hopeless across the period they were being interviewed.
The shocking part is the interview with the chief of police, who lays it all out on the table Jay Bulworth style. (I mean, he doesn't rap. But he bluntly says everything you would never think a guy in his position would say.) He says that the entire system is corrupt and was intentionally created from the beginning to oppress the poor and protect the rich. He talks about how the U.S. destroys drug plants in Colombia supposedly to protect their country, and says he wishes he could do that to the Colt factory in the U.S., because they're making guns that aren't even used for war anymore, that have no purpose except to be illicitly sold to gangs in other countries.
I mean, this is a devastating picture this movie paints. It's Rio but it's also Afghanistan, it's also Palestine, anywhere where a war has been fought for generations with no end in sight. It's a bunch of people set up against each other, all of them having what seems to them like a legitimate point of view, none of them having a way to stop fighting each other. How the fuck do you solve a problem like that?