Okay, let's talk EXPENDABLES 2.
As some of you notified me in the comments, the L.A. Times recently reported that Sylvester Stallone "isn't, at the moment, planning on helming" the sequel to THE EXPENDABLES, and that as producer he's been meeting with possible directors.

The article also reveals that the script is being written by David Agosto and Ken Kaufman, whose only previous work as a team is an action comedy script called WARDOGS. The premise of that one hasn't been reported but let's just say it's being directed by Peter Segal (NUTTY PROFESSOR 2: THE KLUMPS) and that producer Michael Ewing says: "it's an action ensemble comedy in the vein of OCEAN'S 11, where the casting becomes an event. It is a bunch of these terrific actors getting together and having a good time, it's that kind of thing."
On his own, Kaufman does have 2 sort of action-ish credits – Ron Howard's western THE MISSING (I haven't seen that) and Clint's SPACE COWBOYS (which I do like, and is about old dudes showing up the youths). He's also worked with Pauly Shore and the Muppets.
So I'm not sure what to expect from those guys, but a good director could sharpen an okay script if necessary. The big window of opportunity here, I think we all agree, is to inject some good action filmatism into this thing, something that was sorely lacking in part 1. Although I enjoyed watching the movie, I believe the airplane scene with Stallone and Statham was the only well-staged action scene. It still pains me to think about how badly they wasted a Li vs. Lundgren fight and a fight where Stone Cold Steve Austin actually broke Stallone's neck. Obviously part 2 needs a director who would like to use cameras and editing to record the action that goes down on set so that audiences will be able to enjoy it later.
Other websights have already posted Top 5 lists of who they think Stallone should get to direct, but they seem to be mostly thoughtless and snarky and not the ideas of people who actually give a shit, like us. For example you got MTV's list:
Michael Bay
James Cameron
Quentin Tarantino
Shane Black
Arnold Schwarzenegger
Obviously putting Bay on the list immediately nullifies the list, so we won't have to get into why #2 and #3 would never do it, #4 is busy with IRON MAN 3 and #5 is not even a director, except for that one Tales From the Crypt episode.
Movieline's list is better (as long as you don't read their explanations):
John McTiernan
Justin Lin
Ted Kotcheff
Quentin Tarantino
Kathryn Bigelow
McT of course is a good choice, but I believe he still has a 1 year sentence to serve.  He's been trying to get promising action movies off the ground the last few years and not having any success, partly I'm sure because of his uncertain legal situation.
If this was somehow possible it might be the best choice, just because of the poetry of a once-great, now underappreciated director helming a cast of action stars in a similar position. Some would say he' s lost his chops because of ROLLERBALL, but it's not like Sly and Dolph and everybody haven't dropped a bunch of turds during that time period too. We believe in second chances. And it would just be right to bring in the director of DIE HARD and PREDATOR when you bring in Willis and Schwarzenegger.
Still, I think asking for McTiernan to direct is like asking for Wesley Snipes to star. Not likely.
Kotcheff I wouldn't have alot of faith in, because he's been doing nothing but TV for years and his only real contributions to the genre were almost 30 years ago. I guess if this really came about I would have some very cautious excitement that they dug up the director of FIRST BLOOD and UNCOMMON VALOR to do it, trying to resurrect his big screen career just like they're doing with some of the actors. Still, a far-fetched choice.
Tarantino – Hey man, if he was interested that would be a dream, but it ain't gonna happen. It reminds me of how every time a comic book movie is coming out some Ain't It Cool newsie says "they should've given this to Fincher," as if there is some remote chance that David Fincher is interested in doing a movie about Green Lantern and is at home sad that it wasn't offered to him. I could almost imagine Tarantino being spontaneous and deciding to put his spin on a "franchise" for fun, except I've already been through that disappointment when it got out that he'd had a meeting about doing a FRIDAY THE 13TH sequel. Turned out he really met with them, but wasn't interested in doing something like that. Tarantino is not a for-hire type of guy.
And neither is Bigelow after she won best director/picture and has more political thrillers in the works. But I'll be charitable and entertain this as a reasonable choice because I think she still has the POINT BREAK chops and because it would be awesome to see her bossing all those musclemen around. And maybe she needs a paycheck to get her other projects done right, I don't know.
I saved Justin Lin for last 'cause he seems like the most realistic choice on either list. He has alot of projects but he could probly move them around. Not a bad choice either. He made TOKYO DRIFT so surprisingly enjoyable, has done good practical car stunts, worked well with macho actors and even made Paul Walker seem pretty cool in FAST AND FURIOUS. If he ended up doing this I'd hope to see Han show up somehow. And Lucas Black as the Expendables intern.
We here are the serious action fans and scholars, so we sort of have a duty to be Stallone's exploratory committee and come up with a good list for him. My choices are mostly obvious for anybody that reads me, and I don't think there's that long a list of directors who would do a good job, would be likely to be interested and would be agreeable to Lionsgate. But here's my list and you guys can add to it in the comments.

1. JOHN HYAMS
Yeah, you knew that would be my choice, and Sternshein already said it in a comment thread. But the director of UNIVERSAL SOLDIER: REGENERATION would be the perfect man to elevate the EXPENDABLES series. In that superb sequel he executed thrilling action scenes in a style similar to the fake-documentary one that Stallone tried to do in his part 1, but he made them completely comprehensible. Hyams worked with Expendable Dolph Lundgren and potential part 2 cast member Van Damme, and not only knew how to showcase their acting and fighting skills but knew how to use their age as an advantage. So many movies try to polish the stars and pretend they're younger then they are, but even with them playing clones Hyams was able to use the lines on their faces and exhaustion in their eyes to enhance their characters.
In part 1 Stallone tried to expand the viewership beyond '80s action fans by bringing in UFC legend Randy Couture. Well, here's a director who has become somewhat of an expert in MMA competition because of his great documentary THE SMASHING MACHINE. That knowledge helped him to get great fight scenes and villainy out of Andrei Arlovsky.
Hyams also knows alot about bodily harm due to his work on the excellent bullriding documentary RANK.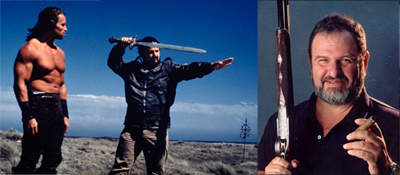 2. JOHN MILIUS
How 'bout this for a McTiernan backup? True, he's less known as a director than a writer, but he did give Schwarzenegger one of his second most iconic role (CONAN THE BARBARIAN) and would probly be the very best director to bring out the macho in this cast. He's into the mercenary shit and he'd be suggesting all kinds of crazy weapons and everything. And he's had a hand in multiple eras and segments of macho: great '70s achievements like APOCALYPSE NOW and that speech in JAWS, Reagan era stuff like CONAN, UNCOMMON VALOR and RED DAWN, in the '90s he was involved in the creation of the original Ultimate Fighting Championship, and in the 2000s he created ROME (the TV show, not the city). Bringing a guy like this in might be a good balance to the script by some dude who wrote IN THE ARMY NOW. Also he's worked with Nick Nolte, who I'd like to see in part 2.

3. ISAAC FLORENTINE
Of course I gotta have Florentine on the list. Stallone might not be as into him since his biggest strength is in martial arts, but I think he'd do great. He has done plenty of explosions and vehicle action in movies like SPECIAL FORCES, though he's admitted that that's not really his passion, he just puts those in for the producers. But I think if you look at his best movies you can see his skills in working with actors and making them look tough. Scott Adkins, for example, is a very clean cut handsome dude who makes sense as a stunt double for Ryan Reynolds, but Florentine made him convincingly menacing and dirty as Boyka in the UNDISPUTED sequels. And this is another guy who has worked with Dolph and Van Damme and plenty of action stars that could work well in part 2. (I guess his experience with Gary Daniels doesn't count for shit though considering the fate of that character.)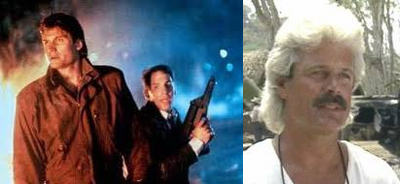 4. CRAIG R. BAXLEY
Unfortunately I gotta put Baxley low on the list since he's been doing sci-fi TV business for years now and has been away from the explosive style of the STONE COLD and ACTION JACKSON days. But I didn't know he did an episode of "Human Target." I heard that was a cool show. I should check that out.
Here's a guy who was stunt coordinator on THE WARRIORS, second unit director on PREDATOR, he directed Dolph in I COME IN PEACE, and he's from a whole family of stuntmen. I shouldn't worry. Being around these guys and shooting for the big screen I think he'd get the eye of the tiger and go for broke.
5. Julie Taymor seems to be available.
Okay, that's not really something I can picture. But if we're talking fantasy league like the other sights I would have to throw Paul Verhoeven on the list. Maybe Arnold could get him nostalgic about the TOTAL RECALL days and talk him into it. He would make a movie that made RAMBO seem peaceful and reasonable, and Stallone would be totally into it. For Verhoeven it would be sarcastic, for Stallone it would be sincere, and both would be kinda right.
THE DO NOT CALL LIST – Directors I pray don't get it due to their sloppy, incomprehensible action scenes:
Simon West, Nevildine/Taylor, Neil Marshall, the Texas Chainsaw remake guy, etc.
Remember, if a list of possible directors gets leaked it's always the worst guy on the list that gets it. Call it the best picture principle.
P.S. Although we don't know how far along these meetings are I sincerely think it could help for everybody to make suggestions to Stallone in Ain't It Cool talkbacks and on Stallone's Twitter feed. If you watched the talkbacks during the casting of THE EXPENDABLES you saw that almost everybody that was discussed ended up being approached for the movie, including people that turned it down like Kurt Russell, Van Damme, Seagal and Scott Adkins. Stallone is eager to please.
This entry was posted on Friday, March 11th, 2011 at 4:57 am and is filed under
Blog Post (short for weblog)
. You can follow any responses to this entry through the
RSS 2.0
feed. You can skip to the end and leave a response. Pinging is currently not allowed.