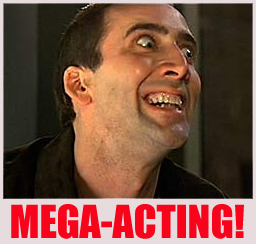 Good ol' Fred Topel just did an interview with Nicolas Cage for Screen Junkies, and he was cool enough to ask Cage about the concept of mega-acting:
SJ: I've been reading Outlawvern.com and he's coined the phrase "mega acting" with regard to your work in films like Bad Lieutenant and Face/Off. The idea is it's not overacting, because it's intentionally extreme. Do you feel that's accurate?
NC: Yeah, I think that makes sense. I often refer to it as outside the box, as opposed to over the top. The two things mean the same thing on one hand but one sort of celebrates the idea of breaking free and going into other forms of expression, whether they're abstract or extreme or as this friend of yours calls mega acting. The other sort of implies you're not being truthful to the part, but see, I don't know how you measure something like that because life can be extreme and life can be mega. I wouldn't do that to somebody in another art form. Not to compare myself to someone like Francis Bacon but just as a point of explanation, I wouldn't say, "Hey, you can't paint a screaming pope like that because a screaming pope doesn't look like that naturally."
When Cage is interviewed most of the time he's probly sitting in front of blownup movie posters talking bullshit with local news people who still watch Entertainment Tonight every night. What's cool about Fred's interview is he comes from appreciating the odd sides of Cage's work, so that's what he asks about. Check out the whole thing for some more interesting insights.
thanks to Fred for doing the interview and Tommy S. for sending me the link
This entry was posted on Wednesday, December 1st, 2010 at 12:15 pm and is filed under
Blog Post (short for weblog)
. You can follow any responses to this entry through the
RSS 2.0
feed. You can skip to the end and leave a response. Pinging is currently not allowed.