DEATH WEEKEND, aka HOUSE BY THE LAKE, is a 1976 Canadian rape-revenge movie, and a pretty good one. You know, now that I've finished typing that sentence I feel like that description doesn't sound nearly as appealing as I would like. So let me rephrase that: DEATH WEEKEND, aka HOUSE BY THE LAKE, is from 1976.
Okay, I already told you what kind of movie it is, but let me assure you, the rape part is not long and graphic like I SPIT ON YOUR GRAVE. The woman doesn't get degraded too much, and neither do you, the viewer. It has a real good setup and a very capable heroine in a world where virtually all men are bastards or imbeciles. (Fair enough.)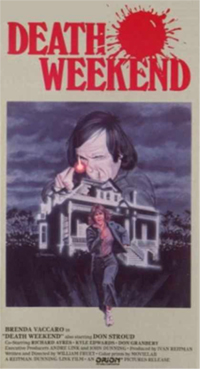 It's a story about a date gone horribly wrong. It's kind of like DATE NIGHT. If your parents or somebody liked DATE NIGHT, recommend they watch this one. A rich dentist named Harry (Chuck Shamata) brings a raspy-voiced, fur-coat-wearing model named Diane (Brenda Vaccaro) for a drive in his black Corvette convertible. After a while she convinces him to let her drive. He's obviously not happy about it, and then seems a little wounded when she tears up the road at top speeds and seems to handle the thing better than he did.
Then they run into a car full of yahoos who whoo hoo and throw beer at them and try to run her off the road. There's a big high speed chase scene and she puts them in their place (a muddy ditch). I know it's weird to say that a random group of assholes has a leader, but this one guy Lep (Don Stroud from 'The New Gidget') is clearly the leader, and it pisses him off to see a woman driving that good. I know because he says it: "Jesus, that broad can drive. That pisses me off!"  When their car is stuck in the mud the other guys laugh about what happened, but Lep is livid and yells, "I'm gonna find that fuckin cunt and I'm gonna ram that supercharger up her ass!"
Harry and Diane are headed for his secluded lake front property where she thinks there will be other guests, and he thinks she won't be mad that he lied about there being other guests. Both are wrong. She politely shows disbelief at all the oppulence he tries to impress her with while he politely shows disbelief at the skills she keeps revealing, for example fixing the engine on his boat. She has a curious mind and likes to learn things from the men she dates. He sees women as trophies and is confused by them when they're smart and capable.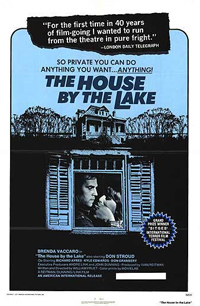 The angry yahoos spot the Corvette, invade the house, and become those other weekend guests. Already the playing field is being set up, creating anticipation. We've already learned lots of information, most of which will come up again: she's a great driver, she understands machines, the property is completely secluded, he has a boat, there's a hard-to-spot 10-15 foot deep bog nearby, that type of stuff.
While Lep terrorizes Harry and Diane, forcing Harry to pretend to be his buddy, his friends cackle like creeps in a DEATH WISH. The tension isn't just between genders, there's a serious class issue going on here too, and we the viewers are stuck right in the middle. See, before the home invasion Diane was playfully poking at Harry about his materialism, kind of making fun of him for having such a huge place full of fancy shit he doesn't need. He proudly shows her his piano, talks about how expensive it was. "Do you play?" she asks. "No," he says as he walks over to some other thing he wants to show off. He obviously doesn't see the relevance.
(To be fair I guess you never know if Prince or somebody is gonna come over, and might need to sit down and write some songs. Or if Clint Eastwood came over it would be awesome to let him sit down and play for a while.)
Harry also turns out to be a world class asshole. For one thing he gets pissed when she doesn't want to have sex with him, tells her to leave and won't even call her a taxi. He tries to apologize shortly after, but still.
For another thing he's a total perv. He has secret rooms behind two-way mirrors so he can take pictures while she's in the shower. In my opinion that's not ethical.
But once these guys are are terrorizing them I had more sympathy for Harry. They bust his balls about all his belongings like she did, but when they do it there's an implied threat and anger. Soon they start destroying the place. They cover the walls in food, tip the refrigerator, smash the entire liquor cabinet, sledge hammer the toilet. I felt bad. Yeah, he's too attached to his property, but he doesn't deserve this.
Diane gets to run away and this is her chance to use the skills and weapons that have been set up to pick off her attackers one by one. She's not as creepily methodical and sadistic as the gal in I SPIT ON YOUR GRAVE, but she does make it personal, in some cases up close with eye contact. And she causes an explosion that sends a guy running around on fire screaming. Good stuff.
The very end is a little disappointing because of what it implies. As she leaves (SPOILER), there are quick flashes from earlier, shots of Lep smiling and putting his hands on her. I don't know, maybe that's what creeped her out most and now it's haunting her, but I think it's some of that "she said no, but then she liked it" bullshit you get in some of the '70s movies, or the Japanese movies, or the first CRANK. I realize that she's surrounded by misogynists (even the elderly witness to Lep's assault on a park ranger is shown as pretty sexist toward his wife), but I don't like seeing a smart lady like this ultimately losing the fight mentally. Until that point it's an unusual rape-revenge story because it's not that she goes mental and gets revenge, it's that she knows how to handle them from the beginning. They fucked with the wrong model.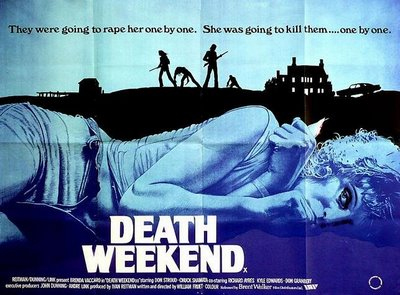 I think the weirdest touch in the movie is the doctor being a voyeuristic pervert. It's the perfect setup for using the secret passages and spying possibilities against the intruders, but nothing comes of it. That's a big missed opportunity, but since it turns out not to be a set up it becomes even stranger as a character trait. Holy shit, even the victims are not to be trusted, they're up to some creepy business.
But as a member of today's remake society I have to admit it triggers the part of my brain that wants to improve it. If it was up to me she'd use the secret rooms and her comment about "you must've pulled alot of teeth to afford all this" would be a hint that he's involved in something more than oral surgery, and that would lead to some more complications.
The director is William Fruet, who did some other movies I heard are semi-interesting like FUNERAL HOME and BLUE MONKEY. Although it came after STRAW DOGS and LAST HOUSE ON THE LEFT I think it's interesting that it was before I SPIT ON YOUR GRAVE, because it also makes an attempt at a feminist point of view and is more clearly sincere about it, at least until that end part I complained about. With the big car chase at the beginning and the woman being so in control for most of the movie (there's a little section in the middle where she's in shock and doesn't know what to do) it definitely made me think of DEATH PROOF and I bet was an influence on it in some small way.
Diane is an interesting character, and could be iconic if she didn't turn wimpy in the middle and at the end. It's weird, Vaccaro doesn't really look like the hottest model Harry would've seen, the opposite problem of so many movies that have actresses who look like models playing ordinary everywomen. But they must've been going for the best actress they could get, and did well, because she was nominated for a best supporting actress Oscar in the same year she made this.
I'm surprised I hadn't heard of DEATH WEEKEND before. I guess since it's not as shocking as I SPIT ON YOU GRAVE, and since neither of its titles are as catchy, it just got lost in the mix. But it's got alot going for it and deserves to at least be included in the discussion of these types of movies. And it would've been interesting if it caught on more because if it had been influential then all these movies would have car chases in them.
I wonder what else Canada has hiding up there?