As a Michael Jackson fan who stuck with him in the later years, I was always dreaming about the comeback he could have some day. I never really believed in my heart that I'd get a chance to see him live, but maybe on DVD. I was so excited for those 50 shows he was gonna do in London, and nervous about what would happen if he wasn't feeling up to it. There are still a million lingering frustrations about all the possibilities that were cut off when Michael died four months ago. But one of the more dramatic ones was this series of shows he called This Is It. He was so close. And we'll never get to see the exclamation point on the end of that sentence.
So as a fan it's a comfort and a blessing to see this almost-concert movie made up of footage taken during his rehearsals in Los Angeles. I mean, I would've loved to have seen this even if he hadn't died, but as the rough draft to his last ambition it takes on extra importance.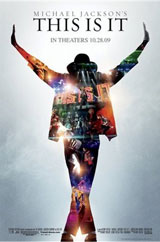 Obviously Sony's gonna make alot of money off this movie, so some people see it as a graverobbery. I don't dig on corporations either, but the fact is Michael was a multi-million dollar corporate enterprise for most of his life, and he was trying to get back to his moneymaking prime, everybody knew that. So yeah, this'll make more money for some assholes who don't give a shit about the music, but so would the concerts have or any future albums. And the money is shared with his estate, which means split between his kids and the charities he held so dear. So I have a hard time feeling bad about the money.
And if we're accusing people of greed I might as well admit my guilt in this because I'm greedy to see this footage. You guys know I would've flipped out for an MJ concert movie regardless of the tragic circumstances, but there never would've been one.
It's true that Michael was very private and was a perfectionist (as demonstrated repeatedly throughout the movie) and while he was alive there's no question that he wouldn't have wanted people to see this much intimate footage of his rehearsals. But unfortunately he's not alive, and had he known that this would be the only way he could share what he was working on with the world he might have felt different. I don't know, but Kenny Ortega (the creative director of the show and credited as director of the movie) is convincing in last week's Entertainment Weekly article. I can't find the quote but he basically says that Michael didn't plan not to finish this, he wanted people to see it, and making the movie fulfills all Michael's original goals: sharing his performance with his children, rewarding his fans for their loyalty over the years, and sharing his concern about the environment, not to mention the more messy business of clearing his debts. In the movie Michael talks about finding and showcasing the best talent from around the world, and the movie gets to share what those people were working on too. I think Ortega is sincere and I'll take his word for it, even if he's some guy who directed NEWSIES.
It's closer to a concert movie than a documentary. There's a little bit of background, and some footage of auditions and filming on soundstages and stuff. You do get some glimpses of people on the outskirts of the production, funny moments like the backup dancers practicing in a dance studio and debating the specific technique of crotch-grabbing. But by far the main focus of the movie is Michael on stage practicing his performance.
Given the amount of material I was worried that it would hop around through edited versions of different songs, but fortunately it's all full songs and covers most of his biggest hits (except for "Bad" or anything from "Off the Wall," but they had to leave something out). They edit together different shots from multiple rehearsals, some of it perfect hi-def footage and some of it lower quality camcorders. They don't try to pass it off as a concert – they often stop to discuss changes or cues or what's going to happen during the real deal. In the opening number "Wanna Be Startin' Somethin'" he explains to the band that it has to be funkier and demonstrates by beatboxing the song better than they just played it.
Of course he's just trying to get it all down, so he's not always trying to be perfect. Sometimes he skips a line or apologizes and says he's saving his voice. But I was very surprised by the quality of the singing. I read something about the high tech lip synching technology at the 02 arena, and after all one of his most famous performances ("Billie Jean" on Motown 25) was an unapologetic lip synch. But most of this movie he's clearly singing on a live mic and even when he says he's saving his voice he tends to sound otherworldy. Check out "I Just Can't Stop Loving You." Incredible.
I've obsessed over Michael's videos and short films for many years but for some reason until these last few months I never watched footage of his concerts. If you're into him you have to check out the Live in Bucharest DVD from the Dangerous Tour. There's that and an earlier show in Japan that are available officially and those helped me to understand this a little more. See, Michael not only has dances for his most iconic songs, he has outfits. For "Billie Jean" he wears a variation on the black sequined outfit from the Motown special, and repeats that routine leading up to the moonwalk. For "Beat It" he wears a version of the red zippered jacket from the video and does the gang fight and dance from the end. For "Thriller" he wears the red and black jacket with the V on it and of course does the dance with the zombies. In THIS IS IT we don't see him in any of these outfits, although we see costumers working on the Billie Jean, and parts of "Smooth Criminal" have him wearing the suit with the fedora and armband. So these weren't dress rehearsals. Of course, he's Michael Jackson though, he's not wearing sweat pants and a Budweiser t-shirt.
One really thrilling spontaneous documentary moment is the "Billie Jean" performance. He seems like he's working up to the moonwalk, but he doesn't do it. He gets lost in his freestyle and as exciting as it always is to see him do that move, you can see that he's really feeling this and he doesn't have to worry about the fans being disappointed that he didn't do the famous move so he just goes off script. When he's done his audience – which is just his dancers and some crew members – are going fucking nuts. But he seems kind of apologetic and says "We can at least get a feel for it."
That's one thing you really get from the movie – Michael seems really nice. He never comes across as a prima dona, and whenever he asks for something he adds in a "I know you mean well" or a sincere "it's okay, this is why we rehearse" or something. The crowd I saw it with laughed really hard at all his weird descriptions to the musicians or Ortega, talking about "simmering" and "sizzling" and "nourishing the audience" and stuff. There's a great scene where he's in another room dancing and explaining to the keyboard player in maddening detail how to start "The Way You Make Me Feel." It would require great patience to work with someone like that but the musicians seem okay with it because they know he's a genius and it's born out as they play the song the way he's asking and it sounds incredible.
Another thing I learned from those live DVDs is holy shit could the man put on a spectacle. And Kenny Ortega directed those tours too, he's not just the cheeseball who did HIGH SCHOOL MUSICAL. In the Bucharest one Michael starts by leaping out of the stage and standing like a statue for several minutes of straight applause, and ends by putting on a silver suit and helmet and flying away on a fuckin jetpack. And from what I understand the HIStory Tour shows were even crazier. So when I read that he was trying to top everything he'd done before with these shows I knew that was not to be taken lightly.
Alot of that is left to the imagination, I can't tell from this if he would've topped those stunts. Most of the more show-offy stage gimmicks weren't ready yet, we only see them in animatics (god damn I wish I could see that "Light Man" entrance for real) and it doesn't address how he planned to end it. We see some pyrotechnics being tested without anybody on stage, and Michael mimes to his group how his "Beat It" jacket is gonna catch on fire and he'll throw it down and stomp it out. There's some great stuff though, including a giant animatronic black widow that he steps out of during "Thriller."
Some of the coolest stuff is the movies they shot to be projected behind him during a few of the songs, which were gonna be in 3-D (they would've actually handed out 3-D glasses to concertgoers – but not moviegoers). They did a great update of the graveyard scene for "Thriller," mingled in with an improved version of elements from his short film GHOSTS, and a tribute to Disneyland's Haunted Mansion. My favorite though is the black and white "Smooth Criminal" segment where he stars in a film noir, hitting on Rita Hayworth and exchanging tommygun fire with Humphrey Bogart and Edward G. Robinson. It's all very faithful to the style of the movies it borrows clips from until the last shot when it turns into the fuckin MATRIX.
Another highlight is the staging of "The Way You Make Me Feel." Expanding on the sexual harassment theme in the original video this scene actually depicts his dancers as construction workers climbing down from a highrise-in-progress to watch Michael woo a hot chick.
The nice irony of THIS IS IT! is that it's about trying to put on the biggest show ever, and it's a worshipful monument to Michael's genius and hugeness as a performer, but it's also some of the most human footage we've ever seen of him. You see him laughing, thinking, figuring things out, making mistakes, giving encouragement. Even when he's completely on it feels intimate because the camera is right up there on the stage with him, and you know he's not surrounded by thousands of fans like usual. He's performing mostly for himself, listening, trying to make sure he's happy with it. You feel like it's supposed to be a movie about a god but instead it makes you realize that he's mortal. And it makes you love him all the more.
If you're not very interested in MJ you're not planning to see this, and you probly shouldn't. I don't think it's gonna explain much of anything and it's alot of Michael Jackson to sit through. But the credits announce that it's "for the fans," and for us it's great. Everybody else had their way with him for 15 years, let us have a minute. The scene at the first showing in Seattle was not as crazy as I thought it might be. It was in a couple small theaters instead of a big one, and the people were mellow. But they applauded and laughed and smiled. A guy near me kept saying things like, "What is he doing!? He's Michael, he can do anything!"
I was worried that it would be a real bummer to watch – it's all about what could've been, what never will be, what was cut tragically short. It's a reminder of what and who we have lost. And the dedication to his children at the end is a reminder of the bigger tragedy, that he wasn't just lost to the world but to his family. But going to it wasn't a solemn occasion. You could hear a pin drop during the long, silent opening crawl, but held-breath turned to whoohs and raucous applause as everybody recognized the opening notes of "Wanna Be Startin' Somethin'". The vibe of the movie is so positive, so hopeful, so un-self conscious. After the end credits you get to see not only a little girl hugging the earth, but the old Michael Jackson Productions logo of his feet and shimmering sequined socks. I've seen it a hundred times on my Moonwalker video, but seeing it on the big screen gave me chills.
(incidentally, I assumed this was gonna be a digital-projection-only deal considering the rushed nature and supposed 2 week only release, but no, it was on film, they struck up prints of it.)
If Michael had been able to go through with the concerts I'm not sure what would've happened. Obviously it would've been a great show, nobody would've been disappointed. Physically I don't know how he could do that many shows in a row, but it looks like he would've been blowin the roof off as long as he could stay on his feet. How the outside world would react would be another question. The media would've been there with knives, forks and lobster bibs. All the TMZs and everybody would've been salivating for any gossip or made up drama, just dying to say that he cancelled or collapsed or was lip synching or that he did a bad job. And Michael never cursed so he wouldn't have said this, but I say fuck 'em. I guess that's the silver lining on it, we don't have to watch that unfold. Michael was not ironic, he would say "Heal the World" and make a film about a butterfly escaping deforestation and not give a shit if anybody thought he was corny. And now we don't have to give a shit either. We can celebrate and revel in this almost-concert as unselfconsciously as he performed it.
Going to this movie was kind of a ritual, maybe a part of the mourning process. In the lobby as I left I noticed two people wearing sequined gloves, and a whole bunch of people wearing their MJ shirts. I have to plead guilty on that one myself. We never had a chance to be the nerd who wears the shirt to the concert, we had to do it at a movie. I didn't see any tears, just smiles, and people talking about what songs he played, what surprised them, like we were leaving a concert. I mean, a regular concert, not This Is It – I'm sure if we'd seen the real thing we would've been speechless. But we'll take what we can get.
So I think Michael would've wanted us to see that footage after all. He wouldn't want us to keep mourning forever. Michael Jackson lives on.
This entry was posted on Wednesday, October 28th, 2009 at 11:45 am and is filed under
Documentary
,
Music
,
Reviews
. You can follow any responses to this entry through the
RSS 2.0
feed. You can skip to the end and leave a response. Pinging is currently not allowed.