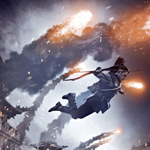 THE GREAT WALL fulfills two different personal moviegoing habits of mine:
1) trying to see some of the higher profile Asian imports that play at the AMC theater here
2) going to lightly attended afternoon shows of almost every fantasy sword-dude movie that comes out
Maybe you can't call this an import, because it's produced by Universal and Legendary, it's mostly in English and its star Matt Damon (SPIRIT: STALLION OF THE CIMARRON) is an American white in my opinion. And maybe you can't call it a fantasy sword-dude movie either, because it's more in a fantasy bow-and-arrow-dude vein. But it is from the great Chinese director of lush historical epics Zhang Yimou (RAISE THE RED LANTERN, HERO, HOUSE OF FLYING DAGGERS), it's the most expensive movie ever filmed entirely in China ($135 million), and it was released there two months ago and had already made $224.5 million worldwide by the time it came to us. So it's close enough to these two categories that it piqued my interest.
(read the rest of this shit…)
VERN has been reviewing movies since 1999 and is the author of the books SEAGALOGY: A STUDY OF THE ASS-KICKING FILMS OF STEVEN SEAGAL, YIPPEE KI-YAY MOVIEGOER!: WRITINGS ON BRUCE WILLIS, BADASS CINEMA AND OTHER IMPORTANT TOPICS and NIKETOWN: A NOVEL. His horror-action novel WORM ON A HOOK will arrive later this year.