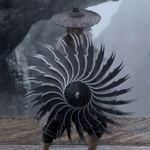 Who knows what evil lurks in the hearts of men? SHADOW is the 2018 film by Zhang Yimou, the director best know to people like me for giving us HERO and HOUSE OF FLYING DAGGERS. It's his followup to THE GREAT WALL, the pretty silly but impressive international production that has a bad reputation in the U.S. for exceedingly stupid reasons (basically, a great Chinese director wanting to make a movie with Matt Damon was mischaracterized as whitewashing). SHADOW is another gorgeous and meticulous period martial arts epic. Though quieter and less action-oriented than the others I've listed here it's one of the best movies I've seen this year. One of those ones that crept up on me, slowly luring me in until I'm in awe of it by the end, and love it the more I think about it. I was lucky enough to see it theatrically, but waited for its arrival on Blu-Ray and DVD this week to finish my review so that more people would be able to check it out.
This is a movie that's a little under two hours and builds to a large battle with some really cool weaponry gimmicks and that thing I love where they come up with a philosophy-based martial art to defeat the enemy. But that's really the cherry on top – it's mostly about palace shenanigans. It's about the kingdom of Pei, who lost the city of Jingzhou to rival kingdom Yang when Commander Ziyu (Deng Chao, DETECTIVE DEE AND THE MYSTERY OF THE PHANTOM FLAME, MERMAID) lost a duel to Yang Cang (Hu Jun, RED CLIFF, BODYGUARDS AND ASSASSINS, FIRESTORM). Most of the people of Pei are still sore about it, but King Peiliang (Zheng Kai, THE GREAT WALL) is a coward and just wants to forget about Jingzhou. So he gets pissed and, to the outrage of the military, strips Ziyu of his title when he finds out he challenged Yang Cang to a rematch. (read the rest of this shit…)
VERN has been reviewing movies since 1999 and is the author of the books SEAGALOGY: A STUDY OF THE ASS-KICKING FILMS OF STEVEN SEAGAL, YIPPEE KI-YAY MOVIEGOER!: WRITINGS ON BRUCE WILLIS, BADASS CINEMA AND OTHER IMPORTANT TOPICS and NIKETOWN: A NOVEL. His horror-action novel WORM ON A HOOK will arrive later this year.