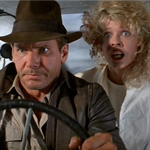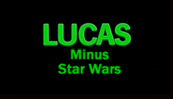 Oh no, Indy! Don't go into that temple! That's not a regular temple, that's a temple of doom!
I practice religious tolerance, so if those guys want to eat monkey brains and bugs and what not, I'm not gonna judge. But in my opinion they should not be having child slaves and pulling a guy's heart out of his chest and stuff. Not unless it's consensual. I don't care what their Bible of Doom says about it, you don't go around doing that stuff, you guys. Or don't rub our faces in it.
But I'm getting ahead of myself. INDIANA JONES AND THE TEMPLE OF DOOM has an amazing opening that scores big by being absolutely not at all what anybody thought would be the opening of the sequel (well, technically prequel) to RAIDERS OF THE LOST ARK. Instead of rugged Indy wearing leather, in some jungle or desert, covered in sweat and sand, maybe carrying a torch, cutting through cobwebs in an ancient burial chamber, it opens with a musical number in a glamorous Shanghai restaurant. Dr. Jones has no hat, and is wearing a white tux, as he conducts a tense merchandise exchange with nefarious gangsters willing to resort to poisoning and hitmen disguised as waiters to get what they want out of him. But for his part Indy is willing to resort to taking a showgirl (Kate Capshaw) hostage at knifepoint and fleeing with an orphan boy named Short Round (Jonathan Ke Quan) as his getaway driver. (read the rest of this shit…)
VERN has been reviewing movies since 1999 and is the author of the books SEAGALOGY: A STUDY OF THE ASS-KICKING FILMS OF STEVEN SEAGAL, YIPPEE KI-YAY MOVIEGOER!: WRITINGS ON BRUCE WILLIS, BADASS CINEMA AND OTHER IMPORTANT TOPICS and NIKETOWN: A NOVEL. His horror-action novel WORM ON A HOOK will arrive later this year.