This weird 1973 creep-out is directed by Willard Huyck, co-written with Gloria Katz. If you don't recognize those names, they were George Lucas's (alright, calm down everybody) friends from USC who went on to write TEMPLE OF DOOM and write/direct HOWARD THE DUCK. But back in the early '70s they helped him write a treatment for AMERICAN GRAFFITI, then turned down the job to write that script when they were given a week to come up with an idea for a horror movie and then write it. They went and made this and got done in time to go back and write AMERICAN GRAFFITI after all.

Arletty (Marianna Hill) is a glamourous young woman who goes to visit her famous-painter father in the beachside artist commune of Point Dune, California. When she arrives her father is nowhere to be found, and his diaries talk about spooky goings on in the town. Looking for him she instead finds Thom (Michael Greer), a guy who looks like Sylvester Stallone but is more suave and eloquent and always wears a hip suit. I thought he was the Messiah of Evil, because he travels with two lusty female companions, Toni (Joy Bang) and Laura (Anitra Ford) who almost seem like Manson girls. But no, he's just some awesome guy, not a messiah much less one of evil. But they get kicked out of the local hotels because of their alternative lifestyle so Arletty lets them stay at dad's house with her.
Since dad is/was an artist, the walls of his house all have murals on them, some of them showing spooky men in suits, art that can cause a fright when suddenly seen in the dark. The floor is splashed with paint, including red puddles that can sometimes remind you of blood, in my opinion. It's a cool place to stay and a nice filming location.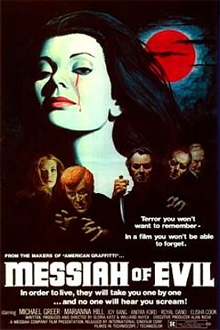 There's definitely some bad shit going on in this town, some shit of evil, but it's hard to say specifically what it is. Somebody got murdered before the credits. There is a weird albino black guy going around creeping people out. There are groups of old townspeople standing around in crowds looking emotionless, who knows what the fuck they're up to, but whatever it is I bet I disagree with it.
The story lacks momentum, because she has the goal of finding her dad but no real means of achieving it, so it mostly seems like hip '70s people hanging around in a pop-art house waiting for weirdness to happen. There's alot of creepy imagery, a dream-like atmosphere and a weird electronical score. The story is very vague and unexplained except when Arletty starts over-explaining in her occasional awkward voiceovers. Sometimes we also hear Thom's reel-to-reel recordings of a local wino talking about some guy called "the dark stranger" and how he's coming back.
At one point Arletty opens her mouth and sees what I swore was a really fake looking toy plastic spider on her tongue. But then she pukes up a bunch of live beetles, worms and lizards, so that's pretty gross. That's a pretty troubling symptom. I bet if you typed that into Web MD you wouldn't come up with anything helpful.
There are at least three really great scenes. One involves hitchhiking and getting picked up by the albino, who shows off by eating a mouse's head while he drives. It's kind of a reverse of the TEXAS CHAIN SAW hitchhiker. In the back of the truck there's a bunch of old people standing stiff staring straight up at the moon.
Another one of the great scenes is at a 24 hour Ralph's, and shows what happens when you discover a bunch of Point Dunians gathered around the meat counter late at night munching on raw cuts. Another great one is when one of the girls goes into a theater playing a movie with the unfortunately prophetic title KISS TOMORROW GOODBYE. (Shoulda gone across town to see SEE YOU NEXT WEDNESDAY maybe.) There's only a couple people in there but after the trailers start all these late nate Ralph's shopper types start filing in, the place starts filling up. This would be pretty normal except that we saw the lady in the box office (Gloria Katz) flip the closed sign and turn off all the marquee and lobby lights right after she let Arletty in. Also, she looks around and notices everybody's bleeding from their eyes, that's pretty weird. Eventually she tries to make a run for it, the exit door is illegally obstructed, and they close in on her like zombies.
On the positive side, the zombie people didn't talk, there was no advertising besides the trailers, the popcorn was free and the ticket was only 50 cents. So in some ways her moviegoing experience was better than we'd have now.
When the shit finally goes down at dad's house there's some good business including some work provided by Stunts Unlimited. (Seriously.) There's a zombie-ish attacker who gets covered in blue paint, like an even more comic book version of the blue zombies in DAWN OF THE DEAD. And then there's a whole mix of paint and blood and, you know, just a big mess. But pretty.
On the DVD Huyck and Katz say because they were just out of film school they were obsessed with Antonioni and Godard, and trying to make an art movie. That explains why it has a really European feel. The look of the people, the bright colors, stylized sets and dreamy, nonsensical events seem way more Italian than American. It also feels a little like CARNIVAL OF SOULS, but of course that was in black and white so the visuals are very different. I don't think MESSIAH OF EVIL is as good as THE BEYOND or the classic Argento movies, but stylistically it's somewhat in the same vein, even if by coincidence. Not a must-see but a good one if you're in the right mood. I prefer this to HOWARD THE DUCK from what I remember although it's been a while on that one.
Thanks to Andrew Wright for recommending this.