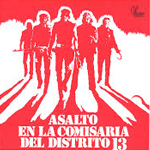 "Hey, this is regular vanilla. I wanted vanilla twist."
PROGRAMMING NOTE: I sincerely thought CREED was coming out last Friday and wanted the ROCKY reviews to run right into my review of that. But now I ran out of ROCKYs and I don't want to leave you guys with nothing new to read on the day before Thanksgiving. So here's one that has a minor connection to the ROCKY series that will come up later. This movie is based on westerns, and the characters who represent the cowboys and the Indians don't even come close to eating sweet potatoes together, but I still think this is a good one for Thanksgiving. This year (as in many years) we've lost some really extraordinary people who inspired and entertained me over the years. That really reminds me not to take for granted the directors and movies I love, for example John Carpenter and ASSAULT ON PRECINCT 13. Thank you, people who make great movies, and thank you all for being here with me to share in their celebration.
Of all the John Carpenter movies that are like westerns, ASSAULT ON PRECINCT 13 is the most like a western. You've got a lieutenant (Austin Stoker, BATTLE FOR THE PLANET OF THE APES, MACH 2) who's like a sheriff, holed up in an about-to-be-shut-down police station that's like a jailhouse. You've got a prisoner transfer and a siege where the lieutenant and a notorious killer (Darwin Joston, THE FOG, ERASERHEAD) have to work together, and they sort of become friends. The hostile territory is a ghetto, Anderson, California, and the Indians are a WARRIORS-like multi-ethnic gang. They even do a bloodletting ritual before the siege.
But the scary thing about these gangsters is they don't talk, and they keep coming. We mostly see them in the distance, at night, scurrying behind trees for cover. Then we see their hands reaching through the windows, or their bullets hitting windows, walls, cops. It's such a good approach because there are so many ways these types of characters could've been silly. If the guy who looks like Che were talking to the cops he would probly use dated slang, have some corny line delivery, make us laugh. It would be fun to watch, but he'd be less menacing. As a silent force he's much more effective. (read the rest of this shit…)
VERN has a new action-horror novel out called WORM ON A HOOK! He has been reviewing movies since 1999 and is the author of the film criticism books Seagalogy: A Study of the Ass-Kicking Films of Steven Seagal and Yippee Ki-Yay Moviegoer!: Writings on Bruce Willis, Badass Cinema and Other Important Topics as well as the crime novel Niketown.