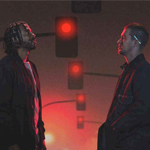 BLINDSPOTTING follows BLACK PANTHER and SORRY TO BOTHER YOU to complete 2018's Oakland cinema trilogy. The home of Too Short, MC Hammer and Digital Underground has been making big moves on screen this year with these three unrelated groups of artists. This is the one written by and starring two life long friends and spoken word/poet/rapper type guys, Rafael Casal and Daveed Diggs, who (among other things) were in a group called The Getback together.
Diggs and Casal play Collin and Miles, best friends and life long Oakland residents. Collin has recently been released after an at-first-not-specified felony. The days left on his probation are used as a countdown and we watch in constant dread of some dumb thing putting him back in. The problem is perfectly illustrated in the early scene where he's in the back seat of a friend's car and Miles, riding shotgun, finds an actual gun between the seats and thinks it's funny to start waving it around. Collin wants no part of it and wants out but it's a two-seater and they ignore his pleas. He should be furious but he has a bleak sense of humor about it because Miles is as funny and charming as he is a total fuckin dumbass. But he's kind of the Bishop in JUICE of this movie, the ticking time bomb of bad influence. And I'm sure he would take that as a compliment. (read the rest of this shit…)
VERN has a new action-horror novel out called WORM ON A HOOK! He has been reviewing movies since 1999 and is the author of the film criticism books Seagalogy: A Study of the Ass-Kicking Films of Steven Seagal and Yippee Ki-Yay Moviegoer!: Writings on Bruce Willis, Badass Cinema and Other Important Topics as well as the crime novel Niketown.