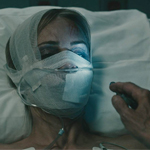 Maybe it's sacrilege to remake a David Cronenberg movie, but if somebody's gonna do it it's fitting that it's weird Canadian twins. I really liked Jen and Sylvia Soska's extreme-surgery underworld tale AMERICAN MARY, and kind of liked their SEE NO EVIL 2. And it's been a long time since I've seen Cronenberg's 1977 RABID, so I don't remember it well enough to have any specific expectations for a redo.
This RABID is about Rose (Laura Vandervoort, THE LOOKOUT, INTO THE BLUE 2: THE REEF), a lowly employee for a pretentious, obnoxious, and on-the-nose-German-accented fashion designer named Gunter (Mackenzie Gray, JOY RIDE 2: DEAD AHEAD, Legion, WARCRAFT, MAN OF STEEL, True Justice). In tribute to the original's motorcycle she rides a scooter.
It's one of those things where they cast an unusually beautiful TV star to play an awkward misfit who everybody picks on, the excuse I guess being that her co-workers are supposed to be mostly models. I had a hard time watching adults act out these teen movie tropes such as the ol' 'getting mad when she finds out the cute boy only asked her out as a favor to someone who feels sorry for her' and of course the 'overhearing the mean girls talk shit about her when they don't know she's in the bathroom stall.' Maybe it's meant as a satirical statement about the fashion industry to make them this petty and childish, but it feels phony to me. (read the rest of this shit…)
VERN has been reviewing movies since 1999 and is the author of the books SEAGALOGY: A STUDY OF THE ASS-KICKING FILMS OF STEVEN SEAGAL, YIPPEE KI-YAY MOVIEGOER!: WRITINGS ON BRUCE WILLIS, BADASS CINEMA AND OTHER IMPORTANT TOPICS and NIKETOWN: A NOVEL. His horror-action novel WORM ON A HOOK will arrive later this year.