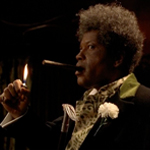 "This ain't a funeral home. It ain't the Terrordome neither!"
Here's a movie that's very much of the '90s. After BOYZ N THE HOOD, STRAIGHT OUT OF BROOKLYN, NEW JACK CITY, SOUTH CENTRAL, JUICE and MENACE II SOCIETY established the genre of the "hood movie," FEAR OF A BLACK HAT director Rusty Cundieff decided to mix it with the format of the anthology horror movie. Like those other movies it's a low budget indie movie trying to get across messages about issues facing the black community, but with Twilight Zone type ironic morals and some crazy special effects and stuff. Spike Lee (whose CLOCKERS came out the same year) acted as executive producer to help get it made.
The wraparound story takes place in Simms Funeral Parlor, where three young drug dealers meet with the crazy-eyed, puffy-haired, organ-playing weirdo (Clarence Williams III, PURPLE RAIN) who runs the place. He claims to have found a bunch of drugs in an alley, but before they can make a transaction he starts opening up coffins and telling them the stories of the occupants' deaths. As you do. (read the rest of this shit…)
VERN has been reviewing movies since 1999 and is the author of the books SEAGALOGY: A STUDY OF THE ASS-KICKING FILMS OF STEVEN SEAGAL, YIPPEE KI-YAY MOVIEGOER!: WRITINGS ON BRUCE WILLIS, BADASS CINEMA AND OTHER IMPORTANT TOPICS and NIKETOWN: A NOVEL. His horror-action novel WORM ON A HOOK will arrive later this year.