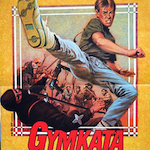 MAY 3, 1985
GYMKATA is another Summer of 1985 release with a Cold War context. On screen, it involves a mission with the ultimate goal of installing an American satellite monitoring station. Behind the scenes, it stars a gymnast who was favored to win gold at the Olympics in Moscow until the U.S. team boycotted.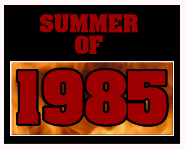 I reviewed GYMKATA for The Ain't It Cool News in 2007 when it first came out on DVD, so you can read that for more details. I have some pretty good lines in there, for example
"this movie and Osama bin Laden are both unintended consequences of [the Soviet invasion of Afghanistan]. And I can say objectively that the better of the two is GYMKATA. GYMKATA is better than Osama bin Laden."
But it's a pretty damn 1985 movie so I decided to revisit it for this series. It stars Kurt Thomas, five-time NCAA champion and International Gymnastics Hall of Famer who won six medals at the 1979 World Championship before the aforementioned protest of the 1980 Summer Games. He plays Jonathan Cabot, also a gymnast of some kind. We see him on the parallel bars, and then all the sudden some suit from the Special Intelligence Agency is briefing him for a top secret mission to the secluded country of Parmistan. His dad (Eric Lawson, who played a sheriff in TALL TALE, RUMPELSTILTSKIN, WHEN TIME EXPIRES and KING COBRA) was an agent who disappeared there competing in "The Game," a thing they apparently do frequently where foreigners try to run an obstacle course while locals on horses with helmets over ninja masks shoot arrows at them. If somebody actually survived the country would offer them any favor they want. Help you move, give you notes on your screenplay, anything. (read the rest of this shit…)
VERN has a new action-horror novel out called WORM ON A HOOK! He has been reviewing movies since 1999 and is the author of the film criticism books Seagalogy: A Study of the Ass-Kicking Films of Steven Seagal and Yippee Ki-Yay Moviegoer!: Writings on Bruce Willis, Badass Cinema and Other Important Topics as well as the crime novel Niketown.