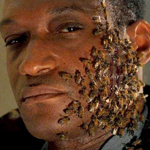 FROM THE VERN VAULT: Don't worry friends, I'm not about to start doing reruns all the time, but there are two pieces that were written for One.Perfect.Shot that disappeared after they were bought out by Film School Rejects. Prompted by Rumsey Taylor I located them on Internet Archive and I'm reposting them for posterity.
Maybe I'm full of it but it seems to me this piece from October 26th, 2015 was a little ahead of the curve. At the time I knew of no one else who considered CANDYMAN the best horror movie of the '90s and I didn't think people talked enough about its exploration of the legacy of slavery in America. I'm proud of this as well as my 2005 take on the movie. (It's not dangerous until I review it five times, is it?)
'CANDYMAN' AND THE RACIAL DIVIDE: WHY ONE OF THE BEST HORROR FILMS OF THE 90S IS EVEN MORE RELEVANT TODAY
"These stories are modern oral folklore. They are the un-self-conscious reflection of the fears of urban society." –urban legends lecture by Professor Lyle (Xander Berkeley)
"What if a person had this thing done to him and what if he had the opportunity to come back and say, 'Watch out!' to the world that created this person and the conditions?" –Tony Todd to Fangoria Magazine, March 1995
American horror movies have played off of all manner of primal and societal fears: tensions between social classes, the invasion of the sanctity of the home, the dangers of trespassing in forbidden places. But leave it to a couple of British artists – writer/director Bernard Rose and executive producer/short story author Clive Barker – to explicitly tie those themes to the racial atrocities of our history, creating a truly American horror story. (read the rest of this shit…)
VERN has a new action-horror novel out called WORM ON A HOOK! He has been reviewing movies since 1999 and is the author of the film criticism books Seagalogy: A Study of the Ass-Kicking Films of Steven Seagal and Yippee Ki-Yay Moviegoer!: Writings on Bruce Willis, Badass Cinema and Other Important Topics as well as the crime novel Niketown.