June 26, 1998
DR. DOLITTLE starts the same way DIRTY WORK did: with Norm MacDonald narrating a wacky story about the main character when he was a kid. But instead of being the main character himself and talking about a dog getting violated by another dog, MacDonald turns out to be voicing a dog named Lucky who later gets violated Jeffrey Tambor. The main character is a live action human played by the voice of the dragon in MULAN, Eddie Murphy.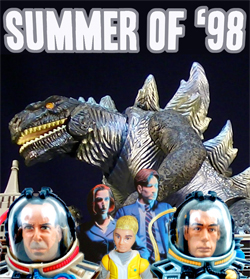 John Dolittle is a medical doctor with a gorgeous wife named Lisa (Kristen Wilson, who played Robin Givens in TYSON) and cute daughters Maya (Kyla Pratt, LOVE & BASKETBALL) and Charisse (Raven-Symone of later-Cosby-Show fame) and he's kind of a self-absorbed dick who's in such denial about having been able to talk to animals when he was a kid that he refuses to even learn what type of animal his daughter's guinea pig is. It says right there in the title that he's a doctor, but they still give him the standard issue Workaholic Dad Neglects His Family storyline. His office is working on a Big Merger that would make him rich, and his partner Dr. Weller (Oliver Platt, EXECUTIVE DECISION, also in BULWORTH that summer) is always hassling him because they have to impress Mr. Calloway (Peter Boyle, THE FRIENDS OF EDDIE COYLE, had been in SPECIES II in April) into signing The Big Contract after The Big Presentation. (read the rest of this shit…)
VERN has a new action-horror novel out called WORM ON A HOOK! He has been reviewing movies since 1999 and is the author of the film criticism books Seagalogy: A Study of the Ass-Kicking Films of Steven Seagal and Yippee Ki-Yay Moviegoer!: Writings on Bruce Willis, Badass Cinema and Other Important Topics as well as the crime novel Niketown.