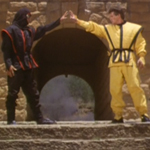 Long before the FAST AND FURIOUS series did it (better), the AMERICAN NINJA series pulled the power move of doing a part 3 with a new lead, only to combine the casts in a later sequel. AMERICAN NINJA 4: THE ANNIHILATION starts with part 3's Sean Davidson (David Bradley) and later brings back part 1-2's Joe Armstrong (Michael Dudikoff). The bad news is this is the first one not to include the character of Curtis Jackson (Steve James), so it almost feels like less of a real sequel than part 3.
The dilemma: American servicemen abducted overseas again. Ninja related again. This time it's worse, because the crazy British Colonel Mulgrew (James Booth, writer of part 2 and AVENGING FORCE and this one) and terrorist Sheik Maksood (Ron Smezarack) plan to burn the four captured Delta Force commandos at the stake and nuke New York City with a suitcase bomb if they aren't paid $50 million. (It seems like either threat would be enough though, right?) I know that sounds like a boring useless couple of loser villains with nothing to contribute, so fortunately they are also training an army of super ninjas, one of whom wears a silver helmet and mirror eye patch. So they check out. (read the rest of this shit…)
VERN has been reviewing movies since 1999 and is the author of the books SEAGALOGY: A STUDY OF THE ASS-KICKING FILMS OF STEVEN SEAGAL, YIPPEE KI-YAY MOVIEGOER!: WRITINGS ON BRUCE WILLIS, BADASS CINEMA AND OTHER IMPORTANT TOPICS and NIKETOWN: A NOVEL. His horror-action novel WORM ON A HOOK will arrive later this year.