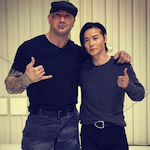 I'm not sure why we'd ever be ranking the least likely trilogies of our cinematic era, but if the topic comes up, I'll be sure to mention the ESCAPE PLAN saga. Here – let's recap:
It all began with a legit theatrical release from the director of 1408. This was in 2013, after EXPENDABLES 1 and 2, in a period when Sylvester Stallone and Arnold Schwarzenegger were making solid old-man-action vehicles that just weren't catching on (BULLET TO THE HEAD, SABOTAGE, THE LAST STAND). ESCAPE PLAN is only my third favorite of those, but it's a solid sort-of throwback action movie, it was fun to see Sly and Arnold together in something less winky than an Expendables, and it was especially cool to see Schwarzenegger kind of being a character actor, being funny and a little crazy as a sidekick instead of the hero. Plus it had a weirdly overqualified cast of Jim Caviezel, Sam Neill, Vincent D'Onofrio and Amy Ryan (plus Vinnie Jones and 50 Cent). (read the rest of this shit…)
VERN has a new action-horror novel out called WORM ON A HOOK! He has been reviewing movies since 1999 and is the author of the film criticism books Seagalogy: A Study of the Ass-Kicking Films of Steven Seagal and Yippee Ki-Yay Moviegoer!: Writings on Bruce Willis, Badass Cinema and Other Important Topics as well as the crime novel Niketown.