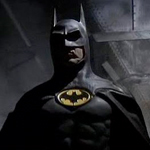 Tim Burton's BATMAN is a movie about a feeling – a feeling called Batman. It's a lonely, broken, hanging out in a cave with the bats feeling. A sad about my dead parents but trying to be me feeling. A doing a bad job of passing for a normal person but fuck you I'm gonna dress and drive how I want and do what I want at night feeling. An okay it's true that I am legitimately crazy and even sometimes hang upside down like a bat when I can't sleep but does that have to mean I can't have a girlfriend feeling. The feeling is evoked by shadowy alleys, towering gothic structures (thanks to brilliant production design by FULL METAL JACKET's Anton Furst), matte black metal and Danny Elfman's low, murmuring horns that climb to the rooftops, step to the edge and spread their gargoyle wings in a thunderous explosion of marching drums and rococo instrumentation.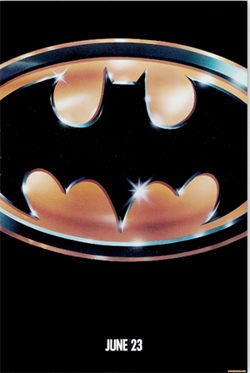 Man, that score. There aren't many I like better than this one. It's as eternal as the concept of Batman itself.
Now, just as we're in a groove here – as Batman (in a place that looks sort of like the '40s, sort of like the '80s, sort of like a future that never happened) is terrifying muggers, chasing gangsters in fedoras, dodging old timey reporters with similar hats, sitting in his cave looking at scans of old newspaper articles on his computer that looks sturdier than a submarine, or out of costume hiding away in his big empty manor, stewing in a mood that's black, blue and overcast – here comes this walking splatter of white, green and purple called The Joker. The nerve of this asshole to hold himself as a parallel to Batman! Sure, we understand the need for self expression, the rebellion against conformity, the back and forth between masking and glorying in his disfigurement. And yeah, he knows how to be a funny jerk. His arrogance can be kinda charming. "You look fine." "I didn't ask." (read the rest of this shit…)
VERN has a new action-horror novel out called WORM ON A HOOK! He has been reviewing movies since 1999 and is the author of the film criticism books Seagalogy: A Study of the Ass-Kicking Films of Steven Seagal and Yippee Ki-Yay Moviegoer!: Writings on Bruce Willis, Badass Cinema and Other Important Topics as well as the crime novel Niketown.