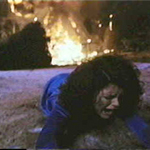 By the time they finished off the PROM NIGHT series it was 12 years after the original. The '80s horror cycle that had given rise to Mary Lou Maloney had petered out. This was a year of studio auteur horror (BRAM STOKER'S DRACULA, RAISING CAIN, DEATH BECOMES HER), genius cult directors getting to work with more resources (DEAD ALIVE, ARMY OF DARKNESS), shitty horror with morphing (Stephen King's SLEEPWALKERS, not Stephen King's THE LAWNMOWER MAN) and in my opinion the best horror movie of the decade (CANDYMAN). The PROM NIGHT series was part of another trend of lesser or totally unwanted sequels, arguably including PET SEMATARY TWO, HELLRAISER III: HELL ON EARTH, HOUSE IV, STEPFATHER 3, WITCHCRAFT IV & V, 976-EVIL 2, CRITTERS 4, AMITYVILLE 3: IT'S ABOUT TIME, BASKET CASE 3: THE PROGENY, THE GATE 2: TRESPASSERS and SCANNERS III: THE TAKEOVER (and some might say ALIEN 3).
PROM NIGHT IV: DELIVER US FROM EVIL, the finale of the original Canadian PROM NIGHT series (so far), ditches parts II–III's story of the avenging prom queen ghost for some new religiously themed horror about some Catholic school students and their boyfriends from Hamilton High who get dressed up and rent a limo and do not go to prom. (So there is no disco, no rock, no Maestro Fresh-Wes, no popular music at all.) (read the rest of this shit…)
VERN has a new action-horror novel out called WORM ON A HOOK! He has been reviewing movies since 1999 and is the author of the film criticism books Seagalogy: A Study of the Ass-Kicking Films of Steven Seagal and Yippee Ki-Yay Moviegoer!: Writings on Bruce Willis, Badass Cinema and Other Important Topics as well as the crime novel Niketown.