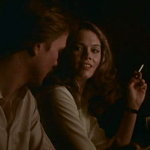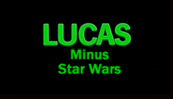 BODY HEAT is a tight, atmospheric, sometimes literally steamy neo-noir from writer and first time director Lawrence Kasdan (THE EMPIRE STRIKES BACK, RAIDERS OF THE LOST ARK, CONTINENTAL DIVIDE). It pulls off the feat of having the protagonist seem reasonably relatable and likable despite doing the wrong thing from beginning to end (including but not limited to aggressively courting a married woman and then plotting to kill her husband and get his money).
He is Ned Racine (William Hurt, who at that time had only starred in ALTERED STATES and EYEWITNESS), a sleazy Florida defense lawyer renowned by his friends like District Attorney Peter Lowenstein (Ted Danson, THE ONION FIELD) and police detective Oscar Grace (J.A. Preston from THE SPOOK WHO SAT BY THE DOOR and HIGH NOON II: THE RETURN OF WILL KANE) for his sexual conquests, though not his competence as a lawyer. One night Ned sees Matty Walker (Kathleen Turner, a stage actress with one TV episode to her name) standing looking at the ocean, and it's all over for him. She's just standing there like a real sexy piece of cheese in a mouse trap, and a mouse is gonna do what a mouse is gonna do.
BODY HEAT is a good title, but this is another one that could be called KEEP YOUR DICK IN YOUR PANTS. In the noir tradition they verbally spar; he hits on her, she rejects him, then makes one unmistakably suggestive comment before disappearing like Batman when Ned's not looking. Might as well have thrown down a smoke pellet. (read the rest of this shit…)
VERN has a new action-horror novel out called WORM ON A HOOK! He has been reviewing movies since 1999 and is the author of the film criticism books Seagalogy: A Study of the Ass-Kicking Films of Steven Seagal and Yippee Ki-Yay Moviegoer!: Writings on Bruce Willis, Badass Cinema and Other Important Topics as well as the crime novel Niketown.