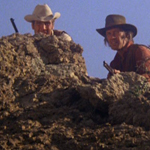 This is gonna sound crazy, but HIGH NOON PART II: THE RETURN OF WILL KANE, a 1980 TV movie with Lee Majors replacing Gary Cooper as the hero from the 1952 classic, is a damn good sequel in my opinion. It's directed by Jerry Jameson, who IMDb says was an uncredited director on that Burt Reynolds movie I like, HEAT. I don't know what the story is on that, but he definitely did AIRPORT '77 and a bunch of TV shows ranging from The Mod Squad to Walker: Texas Ranger.
So it's some TV guy directing. More significant in my opinion is that the teleplay was written by Elmore Leonard, and it shows. It has his knack for interesting language and casual conversation, humor in the face of danger, bonding between lawmen and outlaws, and a sort of rambling turn of events that reflects something about the ridiculousness of life. In the original HIGH NOON the freshly-retired marshal got into trouble because his arch-nemesis had been released and was coming into town for revenge. In this one the trouble starts because he and the Missus (Katherine Cannon, THE HIDDEN) are trying to buy some horses.
It's a year after he shot Frank Miller and left, and he comes back to Hadleyville for this transaction. At the same time Ben Irons (David Carradine) and his men just got off a train, probly the same one the bad guys came in on last time. We know they're trouble because a deputy recognized Irons's face and went to check out the wanted posters. They show up wanting to buy the same horses that Kane just paid for, and they try to convince him to let them have them. It's a tense conversation because Irons tries to act friendly, but Kane lets him know he remembers him from his days in law enforcement.
"Must've been during my wayward youth," Irons says.
"It was a couple of years ago," Kane says. (read the rest of this shit…)