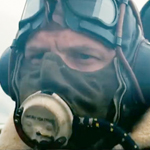 Git 'r dun, kirk! Well dun, kirk. Done 'n dunk, kirk. What have you dun, kirk!? You know you dun kirked up, don't you? You know that, right?
DUNKIRK is Mr. Christopher Nolan's WWII (World War 2) movie, a sweeping epic in visual terms but kind of an intimate story; a historic event depicted through the perspectives of three groups of lightly developed characters. I saw it in Imax, and I'd guess 98% of the movie fills the entire gigantic screen from top to bottom. They cropped it briefly inside a small boat (probly didn't want gigantic closeups) but otherwise your field of vision is filled with sky, sand, water, helmets, bodies, smoke. And Hans Zimmer's stress-inducing score frequently mimics a ticking stopwatch as we watch these thousands of British soldiers trapped on a beach in France waiting to see whether they're gonna be miraculously rescued or bombed to shit.
Nolan gotta be Nolan, so he gave a simple story a uniquely tricky structure. He intercuts between the soldiers on the beach, some citizens in a small boat and a few pilots in the sky, but titles tell us that their stories encompass one week, one day and one hour, respectively. You never feel like you're skipping around in time, but it's an illusion, a timeline repeatedly expanding and contracting until it gets to the end. (read the rest of this shit…)
VERN has a new action-horror novel out called WORM ON A HOOK! He has been reviewing movies since 1999 and is the author of the film criticism books Seagalogy: A Study of the Ass-Kicking Films of Steven Seagal and Yippee Ki-Yay Moviegoer!: Writings on Bruce Willis, Badass Cinema and Other Important Topics as well as the crime novel Niketown.