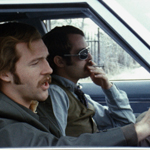 SHOT is a movie that's not necessarily thrilling from start to finish, but that is a unique specimen and time capsule that I'm happy we, as a civilization, maintain a record of. Somehow the canister-diggers at Vinegar Syndrome got their dusty fingers on a 16mm crime epic made by film students in Champaign, Illinois circa 1973, and now all the sudden it's on Blu-Ray with a newly restored 2k transfer. The movie is appealing not only for exhibiting the fashion and music of its era, but for having an impressive amount of production value considering its origins. Reportedly they raised a $15,000 budget with campus film screenings, but I imagine it was more a matter of string-pulling that accounts for some of this. They have an abundance of helicopter footage, a small plane, multiple police cars, many guns, and a couple car crashes. It's no FRENCH CONNECTION (a cited inspiration), but picture yourself, like, 22 years old trying to figure out how to get access to that stuff.
The key to watchability is a solid cast of non-professional actors. Vinegar Syndrome's promo materials call the movie "regional filmmaking" (and also "a low-key piece of regional New American Cinema") which is a good description, but might sound like something more laughable and homemade than this. The natural performances I think graduate it to legit indie film. It's much more professional than so many regional horror movies that I've seen, and that's kind of an interesting part of it, I think. If it was after HALLOWEEN they'd be making a horror movie. If it was after RESERVOIR DOGS they'd be making a crime movie. I guess after DIRTY HARRY they wanted to make cop movies. (read the rest of this shit…)
VERN has been reviewing movies since 1999 and is the author of the books SEAGALOGY: A STUDY OF THE ASS-KICKING FILMS OF STEVEN SEAGAL, YIPPEE KI-YAY MOVIEGOER!: WRITINGS ON BRUCE WILLIS, BADASS CINEMA AND OTHER IMPORTANT TOPICS and NIKETOWN: A NOVEL. His horror-action novel WORM ON A HOOK will arrive later this year.