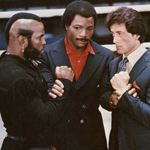 Some important and possibly relevant events happened in the world during the three years between ROCKY II and ROCKY III. Disco records were blown up at baseball games, Pac-Man and Donkey Kong were released, some motherfucker shot J.R. and the U.S. boycotted the Olympics in Moscow. Minutes after Ronald Reagan (THE KILLERS) was sworn into office the Iran hostages were totally coincidentally released, and the next day the first DeLorean DMC-12 was built. Later MTV went on the air. All the sudden it was 1982.
Movies had been changing too. ROCKY was the biggest movie of '76, but of course '77 brought us STAR WARS, and since then we'd also had THE EMPIRE STRIKES BACK and RAIDERS OF THE LOST ARK. It would be quite some time before another drama was the #1 movie of a year (not until RAIN MAN in 1989 I believe).
The ROCKY series evolves with the times, and the transition to the '80s is a drastic one. After the traditional Bill Conti fanfare (title scrolling over championship belt) and end-of-the-last-one recap we get a moment of contemplation and then… jugga jugga jugga jugga BRRRMMMMP!…BRRMMP BRRMMP BRRMMP! electric guitars and fireworks. "Eye of the Tiger" by Survivor is as purely, un-self-consciously motivational-speakerish as "Gonna Fly Now," and even more audaciously grooving and tackily emblematic of its era. The song is so ridiculous it's kind of a betrayal of the dirty, street level reality of the series so far, but it's dead perfect for this slick new ROCKY of the aerobics-and-American-flags Reagan years. (read the rest of this shit…)
VERN has been reviewing movies since 1999 and is the author of the books SEAGALOGY: A STUDY OF THE ASS-KICKING FILMS OF STEVEN SEAGAL, YIPPEE KI-YAY MOVIEGOER!: WRITINGS ON BRUCE WILLIS, BADASS CINEMA AND OTHER IMPORTANT TOPICS and NIKETOWN: A NOVEL. His horror-action novel WORM ON A HOOK will arrive later this year.