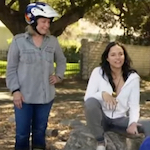 In this age of streaming and crowdfunding and what not there has been a new wave of documentaries about movie topics I'm interested in. The history of Cannon Films, of martial arts cinema, of '80s horror, etc. Some are great and comprehensive, some take on too broad of a topic and can't really get very far, some are just amusing surface level "remember that?" tours through basic things you likely already know if you watched the movie on purpose. So I try not to expect much more than a cursory talking-heads-and-clip-montages glance at a compelling subject.
STUNTWOMEN: THE UNTOLD HOLLYWOOD STORY – which Shout! Studios is releasing to digital platforms tomorrow, September 22nd – gave me much more. Credited as an adaptation of the book of the same title by Mollie Gregory and directed by April Wright (GOING ATTRACTIONS: THE DEFINITIVE STORY OF THE AMERICAN DRIVE-IN MOVIE), it has interesting things to say about the history of women in cinematic stunts, addresses industry issues that hadn't all occurred to me before, and most of all gives a glimpse into the lives and work of some really fascinating, amazing women. (read the rest of this shit…)
VERN has a new action-horror novel out called WORM ON A HOOK! He has been reviewing movies since 1999 and is the author of the film criticism books Seagalogy: A Study of the Ass-Kicking Films of Steven Seagal and Yippee Ki-Yay Moviegoer!: Writings on Bruce Willis, Badass Cinema and Other Important Topics as well as the crime novel Niketown.