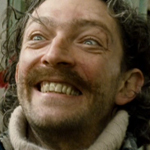 Sometimes it takes me a while to get around to a movie, which I can prove because I seriously have been meaning to see this movie SHEITAN since it was the hot new horror movie out of France, and that was 11 years ago!
It's about a group of young horny deadbeats – Bart (Olivier Barthelemy, MESRINE PART 2: PUBLIC ENEMY #1), Thai (Nicolas Le Phat Tan, no other credits) and Ladj (Ladj Ly, OUR DAY WILL COME) – who go clubbing on Christmas Eve Eve. They have no money and might get kicked out for not buying drinks, and they hassle their poor bartender friend Yasmine (Leila Bekhti, MESRINE PART 1: KILLER INSTINCT, A PROPHET) trying to get freebies. Bart is the biggest pain in the ass though because he hits on a girl who's with her boyfriend, calls her an "ugly skank" when she won't give him her phone number, ends up starting a fight and getting hit over the head with a bottle by a bouncer before getting thrown out. Well deserved.
But Yasmine introduced them to her childhood friend Eve (Roxane Mesquida, RUBBER) who sexy-dances with Thai and is super hot so these doofuses are all sniffing around her and are very amenable when she suggests "We can go to my place, in the country." And they don't know they're in a horror movie, so they don't know NEVER GO TO ANYBODY'S PLACE OUT IN THE COUNTRY. EVER! (read the rest of this shit…)
VERN has a new action-horror novel out called WORM ON A HOOK! He has been reviewing movies since 1999 and is the author of the film criticism books Seagalogy: A Study of the Ass-Kicking Films of Steven Seagal and Yippee Ki-Yay Moviegoer!: Writings on Bruce Willis, Badass Cinema and Other Important Topics as well as the crime novel Niketown.