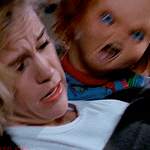 "It doesn't matter. Wherever I go, Chucky will find me."
CHILD'S PLAY 2 is an unnecessary but entertaining continuation of the story of young Andy Barclay (Alex Vincent) and that time when his mom accidentally bought him a doll that was possessed by the soul of Chicago serial killer Charles Lee Ray, a.k.a. The Lake Shore Strangler.
We pick up two years later. Andy is being put into foster care while his mom Karen is in a psychiatric hospital for believing in killer dolls. We only see her in a photo, but I'm gonna assume she's in there doing pullups and getting buff like Sarah Connor when she was locked up for similar reasons. Andy goes to stay with Phil (Gerrit Graham, POLICE ACADEMY 6) and Joanne (Jenny Agutter, AN AMERICAN WEREWOLF IN LONDON) Simpson, though Phil doesn't seem to like him and has very reasonable concerns about whether they're qualified to raise a horribly traumatized kid.
Andy grew up in a small apartment in the city, now he's in this huge house, he gets his own room with a bunch of toys, which he's excited to see, but obviously he misses his mother. He doesn't know when he'll see her again, or how long he'll be able to stay here. And he's never had siblings before, but now there's this teenager named Kyle (Christine Elise, BODY SNATCHERS). He walks into her room and she's smoking and gives him attitude. She's been the for three weeks but hasn't unpacked because she's never been able to stay anywhere for more than a month, and doesn't expect that pattern to change. Andy overhears the Simpsons talking about him and feels bad, he gets scared of dolls, he's not used to having a dad at all, let alone a strict one. But Kyle reassures him that Phil's not that bad (she's had much worse). So it's just a movie about the challenges of being a foster child or a foster parent and stuff like that. That's pretty much it. (read the rest of this shit…)
VERN has a new action-horror novel out called WORM ON A HOOK! He has been reviewing movies since 1999 and is the author of the film criticism books Seagalogy: A Study of the Ass-Kicking Films of Steven Seagal and Yippee Ki-Yay Moviegoer!: Writings on Bruce Willis, Badass Cinema and Other Important Topics as well as the crime novel Niketown.