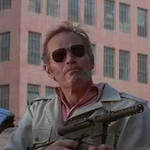 THE OMEGA MAN has been a favorite of mine since I first saw it on cable as a teenager. I would later read the novel I Am Legend by Richard Matheson (love it) and see the first adapation LAST MAN ON EARTH (pretty good) and third one I AM LEGEND (in some ways the best adaptation, despite its flaws). The story of all these versions is of a scientist (usually named Robert Neville) who is immune to a plague that wipes out most of the population and turns the rest into vampires/ghouls/mutants.
So during daylight he's alone in the city, at night he hides in his well-stocked home, holding off the attacking hordes, as he searches for a cure. It's the holing up, of course, that kept coming to my mind a few weeks into Washington state's shelter-in-place order for the Covid-19 pandemic (if I read that sentence six months ago I would've thought it was a reference to some sci-fi movie). I've mostly been looking for escapist entertainment – I'm definitely not planning on watching CONTAGION again, as seems to be popular – but I'm doing okay with genre movies that have parallels to the situation. So I watched THE OMEGA MAN again. (read the rest of this shit…)
VERN has a new action-horror novel out called WORM ON A HOOK! He has been reviewing movies since 1999 and is the author of the film criticism books Seagalogy: A Study of the Ass-Kicking Films of Steven Seagal and Yippee Ki-Yay Moviegoer!: Writings on Bruce Willis, Badass Cinema and Other Important Topics as well as the crime novel Niketown.