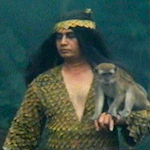 Previously on Vern Tries To Learn About Indonesian Super Heroes:
The 2019 film GUNDALA caused me to read up a little bit on the other Indonesian comic book characters who will be part of an MCU-inspired franchise called the Bumilangit Cinematic Universe. It turned out some of them had been in movies before, and I was able to find THE DEVIL'S SWORD, about a character named Mandala who will be played by Joe Taslim in the BCU.
The character that sounded coolest, though, was Barda Mandrawata, The Blind Man From the Ghost Cave, a.k.a. Si Buta ("The Blind" or "The Blind Man"). I was intrigued partly because he's a warrior who poked out his own eyes to learn how to defeat his blind enemy, partly because he has a pet monkey, and partly because his new movie is to be written and directed by Timo Tjahjanto (HEADSHOT, THE NIGHT COMES FOR US).
I was able to find two '80s movies about Si Buta. The first was THE WARRIOR AND THE BLIND SWORDSMAN (1983), in which the character crosses over into part 2 of a trilogy starring THE DEVIL'S SWORD's Barry Prima as a different character. The blind swordsman was cool looking, but I didn't get very into the story and didn't have enough to say about it to write a review. (read the rest of this shit…)