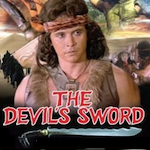 A few weeks ago I reviewed a 2019 movie I was really excited about called GUNDALA. It's a pretty great Indonesian martial arts movie directed by Joko Anwar, based on a comic book (also Indonesian) that started in the '60s, and it's supposed to launch an MCU-inspired movie franchise called the Bumilangit Cinematic Universe.
When I read up on the BCU for that review I learned a little bit about the other characters they'll be making movies about, and some of them have already appeared in movies. IMDb listings of Indonesian films are not very complete, but based on my research I think there's a 1981 version of GUNDALA; a 1954 version of SRI ASIH; seven (give or take a few erroneous double listings) about Barda Mandrawata – The Blind Man From the Ghost Cave, an incredible sounding character whose new movie is to be directed by Timo Tjahjanto (THE NIGHT COMES FOR US); and three about a wandering warrior named Mandala.
Out of all of those titles I could only locate three, and the first I've gotten my hands on is THE DEVIL'S SWORD (1984) starring Barry Prima as Mandala. This character is supposed to be played by Joe Taslim (THE RAID) in the BCU's MANDALA: THE DEVIL'S SWORD, and if that's like a slicker, more modern version of this, I can't wait. This version is directed by Ratno Timoer (who both directed and starred in some of those Barda Mandrawata movies) and it's kind of a cross between a CONAN THE BARBARIAN wannabe and a low budget kung fu movie (complete with wirework), plus some sexploitation thrown in for flavoring.